Albertsons Ad Deals Jul 19 – 25, 2023 have snack mania, for U coupons, Fab!5 sale, grocery sale, the fresh produce. The new weekly ad can be a huge deal for anyone who likes to shop for grocery products at Albertsons stores. Use for U coupons to save on products like Lucerne Butter, Red Vines, Signature Select Frozen Pizza which appear on the first page. The Fab!5 sale is important. Any 5 participating items you can buy and they will be sold at a lower price. Check out the household essentials including cleaning products. Jergens, Cetaphil, CeraVe, and assorted inflatables are great deals.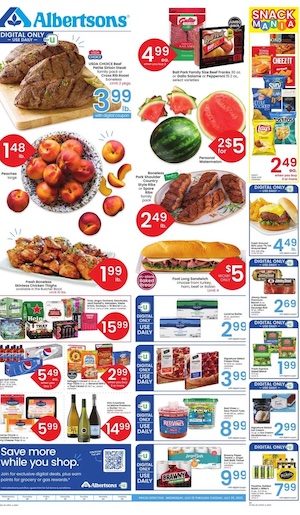 Snack Mania: Cheez-It, Tostitos, Lay's, KIND and more products
Foot Long Sandwich, chicken thighs, spare ribs, peaches, personal watermelon, and more products on the first page
Fab!5 sale: Hot Pockets, Chobani Yoghurts, SPAM, Lean Cuisine, Planters, Chips Ahoy!, Heinz Ketchup, and many more
Grocery products: Cheetos, Ruffles Potato Chips, Polar Seltzer Water, Nabisco Ritz, Pepperidge Farm Goldfish Crackers, Starbucks Doubleshot, Tripleshot deals and more
25% off Jergens, Cetaphil, CeraVe
33% off Assorted Inflatables
Sara Lee artesano bread BOGO free
Many more items are available in Albertsons Weekly Ad Jul 19 – 25, 2023. Don't forget to see these deals. Albertsons Ad Deals Jul 19 – 25, 2023 could be in your email if you subscribe to the newsletter.