For U coupons for basic grocery products are pretty much what the first page of this ad shows. Coffee-Mate Creamer, Hershey's Snack Size Candy, Tide Laundry Detergent, Fresh Ground 93% lean, and many more products are for U coupons. Easy as $1, $2, $3 products can simply meet your needs for the whole week's grocery shopping. Sparkling Ice, Green Giant Simply Steam Vegetables, Rotel Diced Tomatoes with Chiles, Nabisco Snak-Saks, Carnation Evaporated Milk, Bush's Baked, Birds Eye Steamfresh, and more are participating in easy $1, $2, $3 sale. Dairy, frozen, packaged meat, grocery, and more categories are great offers this week. Albertsons Deals Sep 27: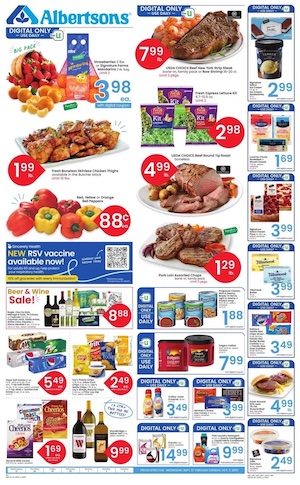 Here are some for U coupons:
USDA CHOICE Beef New York Strip Steak bone-in, family pack or Raw Shrimp 16-20 ct $7.99 lb.
Progresso Classic, Rich & Hearty, Ready To Serve, Light & Hearty or Protein Soup $1.88
Folgers Coffee $7.99
Coffee-mate Creamer $3.49
Hershey's Snack Size Candy $3.99
Franzia $14.99
Tide Laundry Detergent 92 oz. or Downy Unstopables or Liquid Fabric Conditioner 18.2-140 oz $9.99
Strawberries 2 lbs. or Signature Farms Mandarins 2 lb. bag $3.98
These are from the first page but there are more for U coupons in Albertsons Weekly Ad.
Signature Select Ice Cream 1.5 qt. or Ice Cream Sandwiches 12 ct $2.99
Lucerne Chunk, Shredded or Sliced Cheese $1.69
Signature Select Frozen Pizza $3.99
Tillamook Butter $3.99
Nabisco Family Size Chips Ahoy! 12.25-19.5 oz., Family Size Nutter Butter Cookies 16 oz. or Family Size
Oreo Cookies 12.08-18.71 oz $3.49
Fresh Ground 93% Lean 7% Fat Ground Beef $4.99 lb.
This ad also offers BOGO free deals, floral favorites, and Halloween Sale. You can get $10 instant savings when you spend $40 on participating products in the household supplies. Save 25% off baking essentials. You can bake a spooky cake for this year's Halloween.