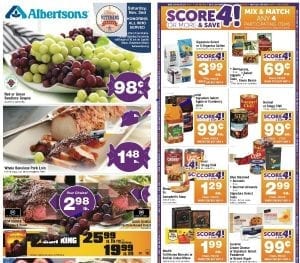 Coffee, almonds, canned goods, soup, frozen food, and more items are in the range of Score4! mix and match sale. Buy 4 of the participating products to save with the prices shown on the cover page. Albertsons weekly ad has fresh food. Juicy meat and grapes are promotional deals this week. Save with just for u coupons. One of the coupon deals is Signature Farms chicken drumsticks, thighs or leg quarters. Stock up for Halloween. Trick or treat sale is a valid discount until Oct 31. Snickers, M&M's, Twix, Hershey's, Halloween novelty items will be sold for the prices given on pg 4-5. You can find some party food as well. Albertsons Score4 savings are similar to multiple-buy deals.
Alternative deals like gift card offers could also be useful. For example, spend $100 on participating gift cards and get $10 off on your next shopping. At Albertsons, you can buy a variety of gift cards. Party foods like a mixture of snacks in a tray, sub sandwiches, fruit tray, and more are viewable on pg 5.
Albertsons Score4 Products:
Consider shopping your fresh needs with using the deals from Albertsons Ad. Take a look at the final page of the weekly ad to see Roma tomatoes, yellow onions, honey crisp apple cider, Carving pumpkin, and more. In this ad, you can also encounter 10 for $10 sale. Similarly, BOGO 50% off deals are interesting, too. Multipet pet toy, Village candle or wax melt, Dasani water, Gold Peak tea, and more are these products.