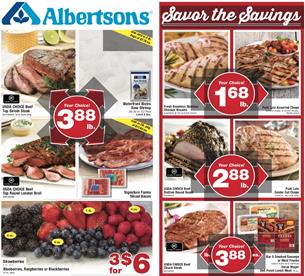 Browse this Albertsons Ad for a range of meat products. Buy your grilling meat for a lower price range special for this week. Hormel Side dish will be free when you buy a rotisserie chicken. There is also a 12 pack sale on pg 2. Mix or match the participating items. See the details on the bottom of pg 2. Xtreme savings will be valid starting on Wednesday. Find Powerade, Signature select pizza, Annie's natural macaroni & cheese, LaCroix Sparkling water, and more items on pg 3. Digital only deals are also on the same page. Buy Lucerne grade AA eggs for $.99 from the Albertsons Ad. Summer grilling products is a major subject in the ad. You can buy a patio set, charbroil BBQ, and market umbrella on pg 4. Get a 25% discount off pool toys, inflatable products, BBQ tools, etc.
Albertsons Weekly Ad Jun 19 – 25 sale content also covers an in-butcher range of meat on pg 5. A particular part of that category is consisting of beef and steak variety. Beef loin t-bone steak is gonna cost $9.99. Buy beef chuck roast for $3.88. Get your grilling party supplies with the price range from the like-class ads. You'll also be able to see seafood, packaged meat, bakery, deli, and more with BOGO Free deals and week-long valid deals.
Check out some important deals from this Albertsons Ad:
Grilling and patio products:
More food and grocery sales from this ad:
If you are looking forward to hearing from a similar weekly ad sale, subscribe to the newsletter with your email. Go to Albertsons' page, you will find where you can subscribe for completely free. Also, you can follow our Facebook or Twitter pages. Check out Amazonfresh sale for a very wide range of grocery products.