Weekly Ad of Albertsons contains fresh produce, grocery, household and personal care items.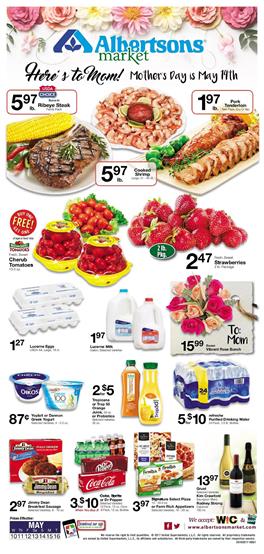 Special sales of this week are focused on Mothers Day gifts. Albertsons Ad is a perfect way to shop for the weekly regular products for cheaper prices. You can also find bonus items that will earn you more bonus points. There is a good sale on personal care items this week. Buy $30 Save $10 for the products you can see on top of pg 5 of the latest Albertsons Ad. They offer pharmacy and household savings as well.
Fresh produce on cover page of this ad are summer food and meat products. Remember you can find these updates via social media acoounts like Facebook or Twitter. Cherub tomatoes, strawberries, are in the range of fresh products by Albertsons supermarket.
Wider range of fresh products are featured on pg 2. Watermelon, Cantaloupes, Medium Strawberry bowl and more products are being shown on pg 2. Bakery products could be a good idea for Mothers Day celebration. Some sweets and deli hot wings are delicious products when it comes to celebrate something. 25% off graduation cake and $10 off 20 balloons balloon bouquet are coupons you can find on pg 2. The flower shelf of Albertsons on pg 2;
Pantry products are featured on pg 3. Cheez-It crackers, Kellogg's cereal, Dave's kiler bread bagels and more to be in your stocks are on sale by Albertsons. Oreo cookies and similar snacks or quick food products can also be found in-store or online. Powerade Drink, Capri-Sun drink, Pepperidge Farm Goldfish crackers are among the deals you can find on this weekly ad.
Are two great deals you can browse on pg 5. Pharmacy and personal care items are on the same page. Leave your e-mail to get these notification about these posts. Whenever a new posts is published, you can get it instantly with subscription.