ALDI Ad Deals Jun 18 – 24, 2023 have a great range of summer products. Buy summer fun products like fashion lounge, splash pad, tropical float island, and more items on the first page. On the second page, you have duffles, coolers, and more travel products. Easy-to-carry products and products for your car care can be useful purchases for your vacation. Have a look at these items when you are browsing ALDI Weekly Ad: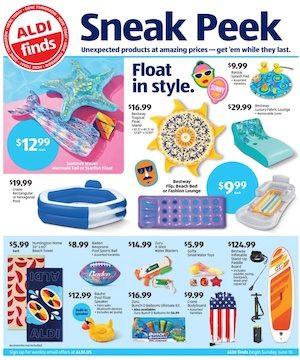 Summer Waves Mermaid Tail or Starfish Float $12.99
Bestway Tropical Float Island $16.99
Bestway Luxury Fabric Lounge $29.99
Bestway Flip, Beach Bed or Fashion Lounge $9.99
Huntington Home 30″ x 60″ Beach Towel $5.99
Bestway Inflatable Stand-Up Paddle Board $124.99
Crane Bodyboard $9.99
Zuru Bunch O Balloons Ultimate Kit $16.99
Bauhn Pool Float Speaker $12.99
In the second page, you have traveling products like duffles:
Kids' Rolling Suitcase $16.99 pg 2
Serra Neoprene Duffle $19.99
Bendon Magnetic Tin Game $5.99
Bendon Large Magic Ink Coloring Pad $4.99
Easy Home Portable Evaporative Air Cooler $49.99
Ambiano Electric Travel Cooler $49.99
Auto XS Car Sunshade $4.99
Check out the items of ALDI Ad Deals Jun 18 – 24, 2023 to make your summer easier and less costly this year. ALDI Weekly Ad can be sent to your email if you subscribe to the newsletter. Don't forget to see these.