ALDI Weekly Ad Preview shows modern home products. Make your home more comfortable with new throws, pillows, slippers, and similar sort of items. ALDI Home Deals Aug 13 – 19 have a deal on SOHL Furniture single door accent cabinet. Store your belongings easily in this cabinet which will look elegant in your bedroom. Find a comfortable pajama set for only $14.99.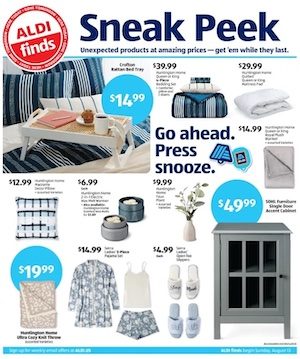 Moreover, you have home appliances at cheaper prices. Toaster, food storage, water pitcher, and more items are gonna be on sale this week. ALDI Finds can be a great guide for everybody who loves ALDI stores.
Crofton Rattan Bed Tray $14.99
Huntington Home Queen or King 4-Piece Bedding Set $39.99
Huntington Home Quilted Queen or King Mattress Pad $29.99
SOHL Furniture Single Door Accent Cabinet $49.99
Serra Ladies' 3-Piece Pajama Set $14.99
Huntington Home Ultra Cozy Knit Throw $19.99
Shop these home products from ALDI Home Deals Aug 13 – 19:
Crofton Stoneware Platter or 4-Pack Coasters $4.99
Crofton Ceramic Color-Dipped Canister Set $12.99
Ambiano Stainless Steel 2-Slice Toaster $19.99
Crofton Antibacterial Cutting Board $4.99
Ambiano Quesadilla or Churro Maker $16.99
Subscribe to the newsletter of weeklyads2.com to receive more ads like ALDI Weekly Ad. Another important deal at ALDI is for grocery. Check out the Grocery ad before you start making your shopping list.