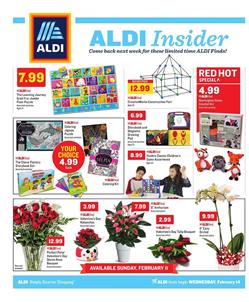 ALDI has new deals on flower bouquets, Hasbro Classic children's game assortment, Huntington homie crochet kit and more products. Take a look at the cover page of the ad to see these products. Seafood deals like fish tenders, tilapia, crab cakes and more products are available on pg 2.
Sea Queen medium EZ peel raw shrimp is one of the items from seafood part of the ad. ALDIFind products are available on pg 3 too. Casa Mamita Mexican Lasagna, Casa Mamita Mexican style seasoning and more are on pg 3. Nature's Nectar juice cocktail is only $1.79, Apple and Eve Mango 100% jucie variety pack is $9.99
The final page of this ad contains kitchen products. Utensil, Crofton II comal, Crofton stainless steel and more items got featured.