Shop Amazon toy list 2023 on amazon.com/htl. The recently released Amazon Toy Book contains over 600s toys and gifts. Make your holiday gift list easily picking the best toys from this product range. Exclusive toys are available in this ad. The Barbie Science Lab Playset is one of the exclusive toys. See also: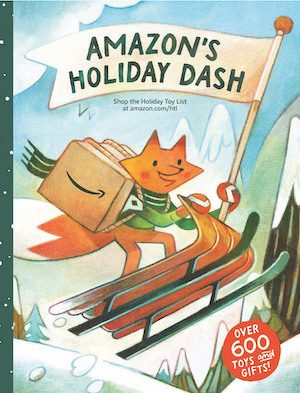 There are also kids' tablets that are covered with durable material so when even kids throw them to the wall, they can have a chance.
LEGO has a big place as in all toy ads. They have Dreamzzz, Duplo, Friends sets. Find gift wrappers, too. Beautiful Christmas themed gift wrapping papers are gonna make holiday rush easier. Learning toys, crayola products, school supplies, customer's choice list, Hot Wheels, and more are also available in the Amazon Toy Book 2023.
Check out Amazon Exclusive toys this year from the Amazon Top Toys 2023:
Uno and Crayola Amazon Exclusive:
| Name | Price | Image |
| --- | --- | --- |
| Mattel Games UNO Minecraft Card Game for Family Night with Minecraft-Themed Graphics in a Collectible Tin for 2-10 Players (Amazon Exclusive) | 10.99 USD | |
| Mattel Games UNO Attack Card Game for Family Night with Card Launcher Featuring Lights & Sounds and MEGA Hit Rule (Amazon Exclusive) | 24.99 USD | |
| Crayola Light Up Tracing Pad – Pink, Drawing Pads for Kids, Kids Toys, Gifts for Girls and Boys, Ages 6, 7, 8, 9 [Amazon Exclusive]. | 26.99 USD | |
| Crayola Inspiration Art Case Coloring Set – Pink (140 Count), Art Set For Kids, Kids Drawing Kit, School Supplies for Girls & Boys [Amazon Exclusive] | 19.79 USD | |
| Crayola Scribble Scrubbie Peculiar Pets Rainbow Tub Set, Kids Pet Care Toy, Toddler Toys for Girls & Boys, Gifts, Ages 3+ | 19.99 USD | |
National Geographic Amazon Exclusive Toys:
| Name | Price | Image |
| --- | --- | --- |
| National Geographic Kids Safari Time Dress Up Trunk, 17 pieces, Kids Toys for Ages 3 Up, Amazon Exclusive | 32.99 USD | |
| NATIONAL GEOGRAPHIC Pottery Wheel for Kids – Complete Pottery Kit for Beginners, Plug-In Motor, 2 lbs. Air Dry Clay, Sculpting Clay Tools, Apron & More, Patented Design, Craft Kit (Amazon Exclusive) | 69.99 USD | |
| That Girl Lay Lay Musical Toy Microphone with Lights and Sounds, Kids Toys for Ages 3 Up by Just Play | 31.72 USD | |
| NATIONAL GEOGRAPHIC Mega Magic Set – More Than 75 Magic Tricks for Kids to Perform with Step-by-Step Video Instructions for Each Trick Provided by a Professional Magician (Amazon Exclusive) | 39.99 USD | |
| National Geographic Kids Tub of Realistic Dinosaur Toy Figures, Packaging from Recycled Material, Storage Container, Kids Toys for Ages 3 Up, Amazon Exclusive | 23.52 USD | |
Play-Doh Exclusive Toys at Amazon:
| Name | Price | Image |
| --- | --- | --- |
| Play-Doh Holiday Set of Tools, 43 Accessories & 10 Modeling Compound Colors, Perfect for Halloween Treat Bags, Kids Arts and Crafts Toys, 3+ (Amazon Exclusive) | 17.67 USD | |
| Play-Doh Kitchen Creations Ice Cream Party Play Food Set with 6 Play-Doh Colors, 2-Ounce Cans (Amazon Exclusive) | 16.32 USD | |
| Play-Doh Farmer's Market Kitchen Playset, 28 Play Food Accessories and Tools, 11 Colors, Gifts for Kids, Preschool Toys, Ages 3+ (Amazon Exclusive) | 29.99 USD | |
| Play-Doh Kitchen Creations Sweet Snacks Food Truck Toy Playset for Kids, 12 Modeling Compound Cans, for 3 Year Old Girls & Boys & Up (Amazon Exclusive) | 94.99 USD | |
Transformers Amazon Exclusive Toys:
| Name | Price | Image |
| --- | --- | --- |
| Minecraft Toys, Sword and Pickaxe, Minecraft Game Transforming Kid size Role-play Accessory (Amazon Exclusive) | 26.99 USD | |
| Minecraft Plush Cat Neck Pillow, Purring Sounds, Press Paw to Activate, Soft Travel Toy (Amazon Exclusive) | 21.99 USD | |
| Power Rangers Dino Fury Team Up Pack, 6-Inch Action Figures, Toys for 4 Year Old Boys and Girls, Action Figure Set, Superhero Toys (Amazon Exclusive) | 47.29 USD | |
| Power Rangers Cosmic Fury Cosmic Zord Mega Pack, Action Figure Toys for 4 Year Old Boys and Girls and Up (Amazon Exclusive) | 55.43 USD | |
| Transformers Toys Heroic Bumblebee Action Figure – Timeless Large-Scale Figure, Changes into Yellow Toy Car, 11″ (Amazon Exclusive) | 24.99 USD | |
| Transformers Toys Heroic Optimus Prime Action Figure – Timeless Large-Scale Figure, Changes into Toy Truck – Toys for Kids 6 and Up, 11-inch (Amazon Exclusive) | 24.99 USD | |
| Transformers Toys 1-Step Flip Heroes 3-Pack, 4-Inch Wheeljack, Bumblebee, and Optimus Prime Action Figures for Kids Age 6 and Up (Amazon Exclusive) | 30.91 USD | |
| Transformers Collaborative Jurassic Park x Toys Dilophocon & Autobot JP12, Action Figures for Boys and Girls Ages 8 and Up (Amazon Exclusive) | 74.99 USD | |
| Transformers Toys Space Blast 2-Pack, Bumblebee and Autobot Blades 4.5-Inch Action Figures, Preschool Robot Toys for Kids Ages 3 and Up (Amazon Exclusive) | 19.73 USD | |
| Transformers Rescue Bots Griffin Rock Team Action Figures (Amazon Exclusive) | 38.99 USD | |
Star Wars and Jurrasic World
| Name | Price | Image |
| --- | --- | --- |
| Mattel Jurassic World Toys Super Colossal Atrociraptor Action Figure, 3-Ft Long Dinosaur Toy with Eating Feature | 40.25 USD | |
| Mattel Jurassic World Toys Dominion Brachiosaurus Dinosaur Action Figure, 32-in Long Toy with Posable Joints | 64.99 USD | |
| Fisher-Price Imaginext Jurassic World T. rex Dinosaur Toy with Owen Grady Figure, Light-Up Eyes & Chomping Action for Ages 3+ Years, 7-Piece Set (Amazon Exclusive) | 113.7 USD | |
| Teenage Mutant Ninja Turtles: Mutant Mayhem Basic Figure Turtle 4-Pack Bundle by Playmates Toys | 39.99 USD | |
| McFarlane – DC Direct – The Riddler: Puzzle Box by Edward Nygma | 69.99 USD | |
| Dc Comic 1989 Batmobile With 2.75″ Batman Metals Diecast Vehicle With Figure, Black | 29.2 USD | |
| STAR WARS Lightsaber Squad 3-Pack, The Mandalorian, Ahsoka, and Darth Vader Lightsabers, Toys for 4 Year Old Boys and Girls (Amazon Exclusive) | 29.99 USD | |
| Monopoly: Star Wars Return of The Jedi Board Game for 2-6 Players, Inspired by Return of The Jedi Movie, Game for Families and Kids Ages 8+ (Amazon Exclusive) | 44.99 USD | |
| STAR WARS Micro Galaxy Squadron at-at Walker (Endor) Amazon Exclusive – 10-Inch Vehicle with Lights, Sounds, Action Zones, and Accessories (Toys for Kids Ages 8 and Up) | 59.99 USD | |
| STAR WARS Mission Fleet Mando's N-1 Starfighter, 2.5-Inch Scale Mandalorian Action Figure Set, Toys for 4 Year Old Boys & Girls (Amazon Exclusive) | 49.99 USD | |
Marvel and Disney
| Name | Price | Image |
| --- | --- | --- |
| Funko Pop! Marvel: Captain America: Civil War Build A Scene – Vision, Amazon Exclusive, Figure 1 of 12 | 15.0 USD | |
| Marvel I Am Groot Figure Collection, 6 Mini Groot Action Figures Set, Super Hero Toys, Toys for Kids Ages 4 and Up (Amazon Exclusive) | 49.99 USD | |
| Marvel Stunt Squad Collection Pack, Action Figure Set, Super Hero Toys, Action Figures, Mini Action Figures, Playset, Toys for Kids Ages 4 and Up (Amazon Exclusive) | 22.99 USD | |
| Marvel Titan Hero Series Action Figure Multipack, 6 Action Figures, 12-Inch Toys, Inspired By Marvel Comics, For Kids Ages 4 And Up (Amazon Exclusive) | 42.79 USD | |
| MARVEL Spider-Man Official Youth Deluxe Zentai Suit – Spandex Jumpsuit with Printed Design and Detachable Spandex Mask and Plastic Eyes | 39.99 USD | |
| MGA's Miniverse Make It Mini Food Make It Mini Pizza Party Amazon Exclusive, Mini Collectibles, DIY, Resin Play, Replica Food, NOT Edible, Collectors, 8+ | 19.99 USD | |
| Mini Brands Series 5 (2 Pack) by ZURU Amazon Exclusive Mini Collectibles Full of Surprises, Mystery Minis and Accessories to Collect | 13.37 USD | |
| Disney Doorables New Goofy Movie Collector Pack, Collectible Blind Bag Figures, Officially Licensed Kids Toys for Ages 5 Up, Amazon Exclusive | 19.99 USD | |
| Disney100 Years of Wonder Walt Disney Presents "Hawaiian Holiday" Goofy Collectible Plush Stuffed Animal, Officially Licensed Kids Toys for Ages 5 Up, Amazon Exclusive | 49.99 USD | |
| Fisher-Price Little People Toddler Toys Disney Princess Story Duos 8-Piece Figure Set for Preschool Pretend Play Ages 18+ Months (Amazon Exclusive) | 24.99 USD | |
Hot Wheels and more
| Name | Price | Image |
| --- | --- | --- |
| Hasbro Gaming Monopoly Junior: Trucks Edition Board Game,Monopoly Game for Kids Ages 5+,Kids Board Games for 2-4 Players,Kids Games,Kids Gifts (Amazon Exclusive) | 14.08 USD | |
| Hasbro Gaming Trucks Matching Game, Fun Preschool Board Game for 1+ Players, Memory Matching Card Game for Kids, Ages 3+ (Amazon Exclusive) | 11.99 USD | |
| Hot Wheels Track Builder Total Turbo Takeover Set, Motorized Playset with Loops & Stunts, Includes 1 Hot Wheels Die-Cast Car, Toy for Kids 6 to 12 Years Old [Amazon Exclusive] | 40.99 USD | |
| Hot Wheels Monster Trucks Stunt Tire Playset With 3 Toy Monster Trucks & 4 Hot Wheels Toy Cars in 1:64 Scale [Amazon Exclusive] | 34.99 USD | |
| Hot Wheels RC Aaron Wheelz Wheelie Chair, Remote-Control Wheelchair with Motocross Aaron "Wheelz" Fotheringham Figure (Amazon Exclusive) | 36.66 USD | |
| Hot Wheels Marvel Spider-Man Web-Car Launcher with Movement-Activated Eyes & 1:64 Scale Toy Character Car (Amazon Exclusive),Black | 22.99 USD | |
| Heroes of Goo Jit Zu Goo Shifters Marvel Spider-Man Strike Pack. 3 Exclusives: Amazing Agility Spider-Man, Stretch Strength Ghost Spider and Goo Shifter Venom Blast Miles Morales | Amazon Exclusive | 34.99 USD | |
| Disney Cars Toys Race Around Radiator Springs Playset | 144.99 USD | |
| MEGA Halo Infinite Toys Building Set for Kids, Floodgate Firefight with 634 Pieces, 4 Poseable Micro Action Figures and Accessories, Gift Ideas | 74.99 USD | |
| Pokémon Clip 'N' Go Multipack Featuring Pikachu, Vulpix & Luxury Ball, Eevee & Poké Ball, Machop and Ultra Ball – Amazon Exclusive | 29.34 USD | |
Hasbro, Monopoly and More Toys
| Name | Price | Image |
| --- | --- | --- |
| Little People Fisher-Price Music Parade Ride-On, White | 84.95 USD | |
| Blippi Recycling Truck – Includes Character Figure, Working Lever, 2 Trash Cubes, 2 Recycling Bins – Sing Along with Popular Catchphrases – Educational Toys for Kids – Amazon Exclusive | 24.99 USD | |
| Disney Junior Minnie Mouse Bows-A-Glow Rolling Glamper 13-piece Figures and Playset, Officially Licensed Kids Toys for Ages 3 Up, Amazon Exclusive | 39.99 USD | |
| Disney and Pixar Toy Story Set of 7 Action Figures with Woody, Slinky, Rex, Hamm, Alien, Rocky & Shark, Disney100 Collectible (Amazon Exclusive) | 63.5 USD | |
| Hasbro Gaming Monopoly Junior: Marvel Spidey and His Amazing Friends Edition Board Game for Kids Ages 5+,with Artwork from The Animated Series,Kids Board Games | 17.69 USD | |
| Spidey and His Amazing Friends Marvel Spidey and His Amazing Friends Super Spidey Set,Role Play Toys,Toy Car Set,Spider-Man Mask Great for Kids Halloween Costume,3+ | 44.99 USD | |
| Hasbro Gaming Yahtzee Jr.: Star Wars Young Jedi Adventures Edition Board Game for Kids | Ages 4+ | 2-4 Players | Counting and Matching Games for Preschoolers (Amazon Exclusive) | 14.99 USD | |
| STAR WARS Young Jedi Adventures Speeder Adventure Pack, 3-Pack Action Figures & Vehicles, 4-Inch Scale Preschool Toys for 3 Year Old Boys & Girls (Amazon Exclusive) | 38.99 USD | |
| Fisher-PriceÂŪ Little PeopleÂŪ Sit 'N Stand Skyway | 46.9 USD | |
| Fisher-Price Little People Toddler Playset Disney Frozen Arendelle Castle with Lights Sounds Anna & Elsa Figures for Ages 18+ Months (Amazon Exclusive) | 32.99 USD | |
More Amazon Exclusive Dolls from Amazon Toy Book:
| Name | Price | Image |
| --- | --- | --- |
| DreamWorks Trolls Band Together Mineez 10 pc Rhonda Play & Display Case | Amazon Exclusive | 24.99 USD | |
| Adora Amazing Girls 18-inch Doll, Ice Skating Ava (Amazon Exclusive) Compatible With Most 18 Inch Doll Accessories And Clothing (218803) | 45.21 USD | |
| My Little Pony Dolls Rainbow Celebration, 6 Pony Figure Set, 5.5-Inch Dolls, Toys for 3 Year Old Girls and Boys, Unicorn Toys (Amazon Exclusive) | 64.99 USD | |
| Baby Alive Time for School Baby Doll Set, Back to School Toys for 3 Year Old Girls & Boys & Up, 12 Inch Baby Doll, Black Hair (Amazon Exclusive) | 29.99 USD | |
| Disney Frozen Forest Adventures Gift Set with 2 Dolls, 2 Friend Figures and 12 Camping Accessories, Includes Elsa and Anna Dolls (Amazon Exclusive) | 33.99 USD | |
| Disney's Wish Asha & Dahlia Dress Up Trunk, Best Friends Role Play Set, Fits Sizes 4-6X [Amazon Exclusive] | 34.99 USD | |
| Magic Mixies Magic Genie Lamp with Interactive 8″ Pink Plush Toy and 60+ Sounds and Reactions. Perform The Magic Steps to Unlock a Magic Ring and Reveal a Pink Genie Mixie from The Real Misting Lamp | 64.99 USD | |
| Polly Pocket Dolls, Playset and Travel Toys, 4 Dolls, 1 Vehicle, 25+ Accessories, Resort Roll Away | 41.99 USD | |
| Monster High Clawdeen Wolf Doll with Pet Dog Crescent and Accessories like Backpack, Planner, Snacks and More | 24.99 USD | |
| Barbie Toy Car "Electric Vehicle" with Charging Station, Plug and Sunroof, Purple 2-Seater Transforms Into Convertible (Amazon Exclusive) | 19.99 USD | |
Funko Pop Star Wars and More Disney Toys
| Name | Price | Image |
| --- | --- | --- |
| Disney Villains Dolls Set for Girls – Bundle with 3 Disney Villains Dolls Featuring Maleficent, Ursula, and Evil Queen Plus Stickers | Disney Villains Gifts | 39.95 USD | |
| Mattel Disney Princess Small Doll Party Set with 6 Posable Princess Dolls in Sparkling Clothing and 13 Tea Time Accessories | 26.99 USD | |
| Funko Pop! Train: Disney 100 – Walt Disney on Engine, Walt Disney, Amazon Exclusive | 24.99 USD | |
| Funko Pop! Train: Disney 100 – Mickey in Steamboat Car, Mickey Mouse, Amazon Exclusive | 15.0 USD | |
| Funko Pop! Trains: D100 – Marvel, Miles Morales on Subway Car, Amazon Exclusive | 15.0 USD | |
| Funko Pop! Train: Disney 100 – Darth Vader on Tie Fighter, Darth Vader, Amazon Exclusive | 15.0 USD | |
| Mattel Disney and Pixar Toy Story Set of 4 Action Figures with Monochromatic Woody, Jessie, Bullseye & Stinky Pete, Woody's Roundup, 7-in Scale (Amazon Exclusive) | 44.99 USD | |
| Disney the Little Mermaid Ariel Doll, Mermaid Fashion Doll with Signature Outfit, Toys Inspired by Disney's the Little Mermaid | 10.99 USD | |
| Mattel Disney Princess Toys, Cinderella Doll with Horse and Styling Accessories, Inspired by the Disney Movie (Amazon Exclusive) | 33.99 USD | |
| ​Mattel DreamWorks Trolls Toys, Best of Friends Pack with 5 Small Dolls & 2 Character Figures, Includes Queen Poppy Doll (Amazon Exclusive) | 29.99 USD | |
Barbie is surely is one of the most popular brand this year:
| Name | Price | Image |
| --- | --- | --- |
| Barbie Dream Closet Playset with 30+ Clothes and Accessories Including 5 Outfits, Plus Mirror, Desk and Rotating Rack | 51.85 USD | |
| Barbie Camper, Chelsea 2-in-1 Playset with Small Doll, 2 Pets & 15 Accessories, Vehicle Transforms into Camp Site (Amazon Exclusive) | 34.99 USD | |
| Barbie Airplane Playset, Dreamplane with 15+ Accessories Including Puppy, Snack Cart, Reclining Seats and More (Amazon Exclusive) | 79.99 USD | |
| Fisher-Price Little People Barbie Advent Calendar and Toddler Playset, 24 Christmas Figures and Play Pieces (Amazon Exclusive) | 29.99 USD | |
| Barbie Camper Playset, 3-In-1 Dreamcamper with Pool and 50 Accessories, Transforms Into Truck, Boat and House (Amazon Exclusive) | 99.99 USD | |
| Hermione with Crookshanks, Kids Toys for Ages 3 Up, Amazon Exclusive | 16.99 USD | |
| Squishmallows Original 5-Inch Harvest 4-Pack Plush – Little Ultrasoft Official Jazwares Plush – Amazon Exclusive | 44.99 USD | |
| Squishville by Original Squishmallows Play and Display Storage – Four 2-Inch Plush Included – Big Foot, Axolotl, Parrot, Chameleon – Hang or Stand Display Case – Amazon Exclusive | 19.99 USD | |
| FurReal Zenya My Rainbow Zebra, Zebra Toy, 14-Inch Electronic Pets, 80+ Sounds & Reactions, 20 Styling Accessories, Interactive Toys for 4 Year Old Girls and Boys and Up (Amazon Exclusive) | 89.99 USD | |
| Squishmallows 20-Inch Diane Peach Bigfoot with Rainbow Hair – Jumbo Ultrasoft Official Kelly Toy Plush – Amazon Exclusive | 39.99 USD | |
These are some of the advertised toys in the Amazon Top Toys 2023 toy book. I will update this list whenever possible