If you want to see Target back to school sale in the Target Weekly Ad, go to pg 11-12.
Simple accessories of electronic categories such as a mouse, HDD, calculator, and a laptop are going to be on sale until Aug 1. You can also find some fun products like headsets. In fact, they are not fun in most cases. They are a necessity when in a crowd or library. The fun is the Nintendo Switch. When you are free, you can play your favorite games on this mobile game console. Go to pg 12 for that product. Nothing special about its price but the product might be a good reminder of the need for fun in stressful times. Browse all back to school deals 2020 at Target including electronics
Target Ad Back to School Electronics:
Best Buy Back to School – Student Deal
Save up to $300 on Lenovo laptops. Student deals are waiting for you on the latest Best Buy Ad. Shop now for the Best Buy student deals. A computer is the first need of electronics when in studying something. But you can also find more deals in the top deals section of Best Buy.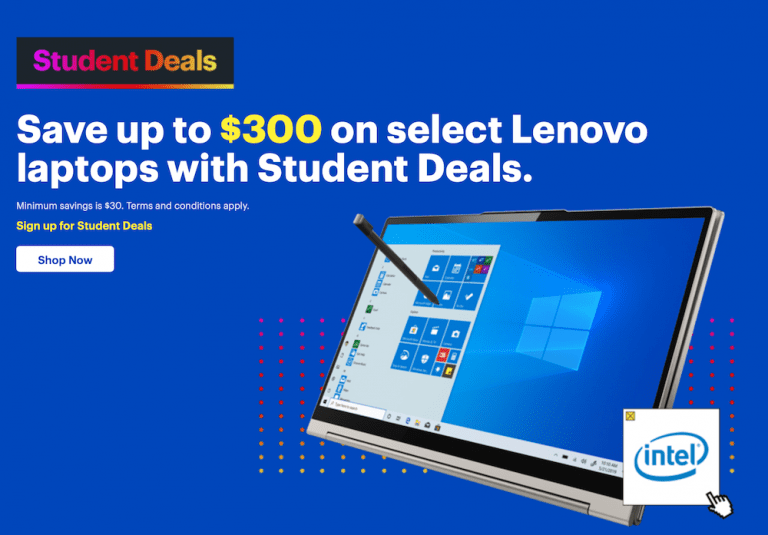 Best Buy has many more deals for students. Save on featured products such as JLab headphones, MacBook air, iPad Pro, gaming laptops, and more electronics. Save 10% off Texas Instruments calcultors.
Target sells Texas Instruments TI-30IIS calculator for $9.99 as you can see it above. It's really cheap. But is it what you are looking for? If you want to go with something professional that can even draw you graphs, you might want to check out the Best Buy calculator deals.
Amazon Back to School Sale
Back To School Deals are everything you need at Amazon. Amazon has an entire category for the back to school needs. They have deals to get ready for school. They currently broadcast live videos via Amazonlive. You can join the community to get information and see what's going to be trends this year. Backpacks, kindle ebook reader, colored pencils, and many more products are highlighted on this part of the Amazon. The site has a school supplies guide. Find face masks and all the other needs of today's daily life needs, too. Check out some of the latest deals from Amazon back to school sale:
HP Printer Paper:
Hammermill 20lb Copy Paper
PILOT G2 Premium Refillable:
Sharpie S-Gel:
EXPO Low Odor Dry Erase Markers:
Oooh Yeah Kids Crazy Funny Silly Novelty Crew Cotton Socks:
SOOCUTE Green Dinosaur Embossed Large Capacity Hardtop Pencil Case:
Animal Adventure Jolley TrolleyPlush: