Popular Black Friday Ads from major retailers and online stores like Amazon have the best deals of the year regarding the footwear range. We focused on stores like Meijer, Target, Amazon, Kohl's, and some product-specific retailers like Big 5 Sporting goods, Dick's Sporting Goods, and Olympia. As you can imagine some of them are only selling sports goods and you can find sneakers there. But retailers like Target has winter boots for women. Let's pick a good deal from each one of some brands we all love. If you want to check out all Black Friday ads, check out this page.
Buy a pair of sneakers that is comfortable for running, playing sports like tennis, going to the gym, or any similar activities. Amazon Black Friday sale is one of the biggest ones.
Pay only $27.99 for heeled boots that can be worn both for casual business days and daily walks. Since it's heeled, it can give a little formal vibe combined with jeans. Target Black Friday deals on some boots:
You can see more in the upcoming Target Weekly Ad deals.
Sneakers are the major deals of the Kohl's Ad Black Friday sale and you can find them on pg 15. The deals will only be valid for this Thursday and Friday. You can start shopping online at 12:01 AM. Here are some popular brand deals from Kohl's Black Friday sale:
Thanksgiving super sale is the big thing at Big 5 Sporting Goods. The 3-day sale will start on Friday and it'll be valid through Sunday. This Black Friday has the largest shoes sale with a lot of products like Clarks, Fila, and more brands.
Big 5 seems like it has the best prices for great sneakers but remember that it's only available for 3 days. Also the regular prices of these products are not bad either.
Dick's Black Friday sale is perfect for someone who wants to shop gym products in any way. The sneakers are just a part of this. You'll be able to buy products like a trampoline, jackets, and many more items related to daily exercises or home gym.
Fila, New Balance, and more brands are under $40. You can prefer gift cards for the holiday. JCPenney has one of the top deals on sneakers pricewise. Check out women's sportswear and sneakers on pg 16 of the Black Friday Ad.
If you are thinking of buying sneakers as Christmas gifts, a BOGO deal might come in handy. The second pair of the equal or lesser value product will cost only $1 at Meijer. Check out the ad for some pics of shoes.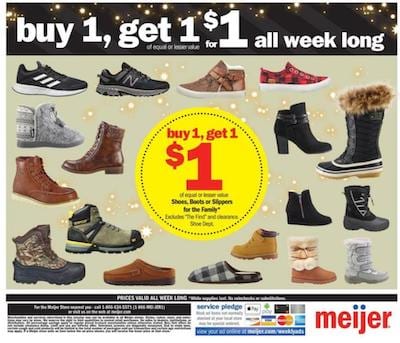 Olympia Sports Black Friday Sneaker Deals 2020
This is a rather long-term deal compared to others. The deals will be valid thru 11/29. And currently, you can shop for them. Check out those doorbuster deals on sneakers by Olympia Sports Black Friday Ad 2020. And not only sneakers are available in the shoe sale.