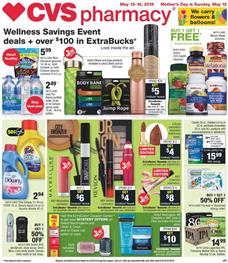 Get $10 ExtraBucks rewards for your $30 purchase of Tylenol, Advil, Bayer, Aleve, and more products shown on pg 11. On the same page, you can find allergy relief and digestive relief products of popular brands including CVS health. Omeprazole, purelax, and probiotic of CVS health are BOGO 50% off! Zyrtec, Allegra, Claritin are the brands to shop at CVS. Save $10 with mfr's coupon of Claritin. Earn $20 Extrabucks for your purchase of Omron Evolv or 10 series blood pressure monitors.
Plenty of deals are available in the personal care sale. Crest, Sensodyne, Colgate toothpaste, and more products are available. Get $5 ExtraBucks for $20 purchase of Huggies little swimmers, jumbo pk. diapers, pull-ups, or goodnites. BOGO 50% off Colgate Total singles this week. See many more from the CVS Ad, subscribe to the newsletter to get emails. You can alternatively follow our Facebook page where we share these posts.
Follow the Facebook page to get these posts. Subscribe to the newsletter for emails. Get notifications allowing your browser to send you about the future ads. CVS Weekly Ad is always availble here.