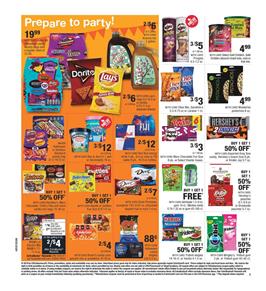 CVS might be infamous for its personal care and pharmacy products but they offer quite a nice deal on supermarket products such as snacks, breakfast foods, simple meals, household products, etc. You can already notice that just browsing their weekly ads. Besides, not only the prices are good but also you can find rewards and coupons. Earn $5 Extrabucks rewards when you purchase $20 Palmolive oxy or Kleenex regular. Scott bath tissue is also available with a $.50 mfr's coupon. Spend some amount on certain products gets more Extrabucks rewards at CVS stores. Physicians Formula cosmetics is one of the rewarded purchases where you spend $20 and get $8 Extrabucks. Shop snacks, chips, Red Bull, and more products on pg 3. CVS sells a group of products from its household range on that page. Charmin, Tide, Lysol, and Palmolive products are on sale. Some of them are Extrabucks rewarded items. $5 Extrabucks Rewards is yours when you spend $20 on Pet items, Arm & Hammer detergent, Scott Paper towel. Using CVS Weekly Ad you can refill your fridge with Arizona iced tea, Ben & Jerry's 1 pint, Dove Promises, and more items. Some selections from the CVS Grocery Deals of this ad can be seen below.
Check out these items from CVS Grocery Deals and the weekly ad:
You can find breakfast foods, cookies, Spam, Oreo, Raisin Bran, Frosted Flakes, and more products on pg 5. General Mills family size cereals will cost 2/$7. In the beauty section and the pharmacy sale, you can earn a lot more Extrabucks Rewards.