The latest ad of CVS has mainly focused on the beauty and skin care products.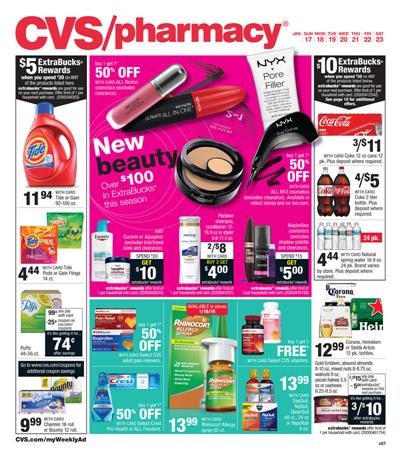 Almost all popular brands like L'oreal or Maybelline can be found on that ad. It also has good offers in pharmacy aisle. Pain relief, cold or flu medicines are on sale at the CVS stores. Half price offers of the popular brands of medicines can be seen on pg 6. Advil and Bayer pain relief pills or liquid gels or PM can be purchased at fair prices.
CVS pharmacy products Jan 19 has got a brilliant discount range for everyone who is visiting our site. You can find even more than these on the same page.
See cleaning supplies with a lot of options on pg 8 that can even hypnotize you. Mix&match sale, extrabucks, half prices and more deals. Be careful while you are running your machine since not all territories offer you pure enough water for its health. So there are plenty of chemicals to use alongside with the detergent. CVS offers them at pg 8.