Summer's beauty, makeup, skincare products are available in CVS Weekly Ad Jul 23 – 29, 2023. If you browse this weekly ad, you will find the best offers. Maybelline, CoverGirl, Revlon, and more brands are some of the featured ones. On products of these brands, you can get digital coupons and Extrabucks rewards. Summer skincare is one of the most important things you shouldn't disregard. Banana Boat or Hawaiian Tropic sun care will give you $5 Extrabucks rewards when you spend $20. Save $3 with a digital coupon on Garnier Fructis Shampoo. CVS offers hair colors and other hair care products, too.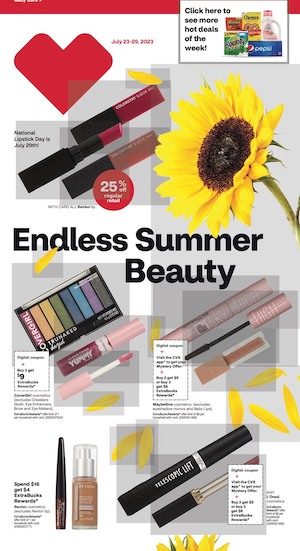 ALL Revlon lip 25% off
Maybelline cosmetics Buy 2 Get $5 or Buy 3 Get $8 Extrabucks
CoverGirl cosmetics Buy 3 get $9 ExtraBucks Rewards
ANY L'Oreal cosmetics Buy 2 get $5 or buy 3 get $8 ExtraBucks Rewards
Revlon cosmetics Spend $16 get $4 ExtraBucks Rewards
ANY Banana Boat or Hawaiian Tropic sun care Spend $20 get $5 ExtraBucks Rewards
ANY Neutrogena, Aveeno sun care, sunless lotion or Aveeno personal cleansing BOGO 40% off Buy 2 get $2 ExtraBucks
As always, CVS Ad is full of good deals on vitamins and supplements and other wellness products. Furthermore, the ad is a good source of deals on health care and medicine products. Omeprazole, digestive care products, remedies, Claritin, Zyrtec, and more deals are available in the weekly ad. Subscribe to the newsletter to get more deals like CVS Weekly Ad Jul 23 – 29, 2023.