CVS Weekly Ad 3/22 products are available and you can reach them with this post.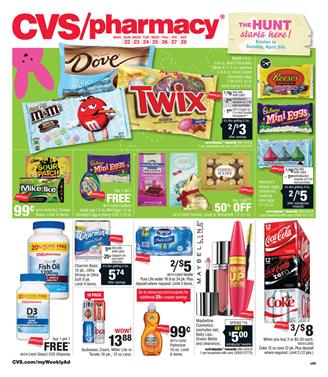 CVS makes difference really from other classic stores. They advertise both very good quality supermarket food and pharmacy together with one ad. Chocolate products for this Easter are also available on this catalogue. Easter products consisting of chocolates and varieties of chocolate bunnies are available on pg; 2. These are preferred in Easter but you can keep them as a treat later as well.
CVS WEEKLY AD EASTER PRODUCTS
In March last week we are able to come across with a lot of new Easter confectionery and gifts. CVS offers a very nice price range for these products. You are able to visit them on the given page. Half price specials of CVS are also available in this time.
Peeps chicks, bunnies or eggs BUY 1 GET 1 (WITH CARD) pg; 2
Easter Grass, eggs.
Novelty items.
Seasonal Toys 20% off !
Are available in latest CVS Weekly Ad. Breakfast items are featured on pg; 4. Check out the deals for nutritious food for breakfast to boost in mornings. Real good stuff are available on the CVS breakfast sale of the weekly ad.
Select Family Size cereals 2 for $6 (WITH CARD)
Yuban instant coffee 2 for $8
Dunkin' donuts coffee or green mountain K-cups $6.99
Lipton Tea or Coffee mate 2 for $6
See also healthy products, cereals, beverages, snacks, cleaning supplies like chemicals, beauty and skin care products and personal care items sale on 22nd March !