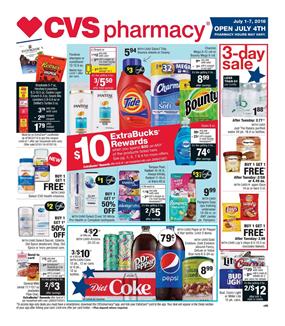 4th of July, ExtraBucks rewards and BOGO Free deals are important categories in the ad. The preview has the deals starting on July 1. Tide, Pantene, Bounty, Charmin and more home products are also on sale. See the cover page where a fine selection of products from different categories are present.
Moreover, CVS Ad Jul 1 – 7 is not only about grilling and snacks. For example, new BOGO deals in summer outdoor products. Portable beach furniture, coolers, toys, towels and flip-flops. On pg 3, see the prices of some electrical accessories.
You can earn $30 ExtraBucks rewards in cosmetics. Check out L'Oreal, Revlon, CoverGirl, Almay, Physicians formula and Maybelline cosmetics were included in this sale. Scott bathroom consumables like paper towel and toilet tissues will give you $5 ExtraBucks for a certain amount of purchase. Personal care products like Neutrogena personal, facial sun care, Banana Boat or Hawaiian tropic sun care, Dove body wash will cost less this week. BOGO 50% off CVS Health digestive care at CVS. Starting on Sunday, you will be able to shop these deals.
4th of July and Summer Sale
One of the important sales in the ad is summer sale. Browse summer deals on flip-flops, portable chair, beach towels and more on pg 3.
Earn $3 ExtraBucks rewards for the purchases of Glade spray, Glade, Ziploc, Windex and more products. Visit pg 3 for the full product list. Also, American Home by Yankee candle is a $5 ExraBucks deal. Spend $20 to get the reward.
CVS is also a good place to shop breakfast food, cereals, snacks and some refreshing drinks. You should see the items in breakfast category on pg 4. Pizza is also on sale and you can buy 12″ pizza or Stouffer's fit kitchen for only $12/2. Moreover, Smartwater, Fiji, Red Bull, karma water products are available on sale. Nature Valley bars 5-12 ct or Fiber one multipacks will cost $5 for 2. Earn $1 ExtraBucks for that purchase. Get $.50 discount for mfr's coupon redeem.
CVS Weekly Ad Jul 1 – 7 can show you the new prices of personal care. Cosmetics and makeup products are primarily highlighted. This category offers a wide brand rang.e BOGO sale, more ExtraBucks rewards in beauty category. Coppertone products are available next week for a cheaper price. $10 ExtraBucks reward in Head and Shoulders and like-class products on pg 9. In order to find a good deal on pharmacy products, check out 12-13. Zyrtec, Advil, CVS products are on sale.
Subscribe to CVS Weekly Ad for free or follow us on the Facebook page to get more news and posts about future deals.