CVS Weekly Ad Pharmacy and Cosmetics 10 May offers are mostly popular and high quality products that you love to see here.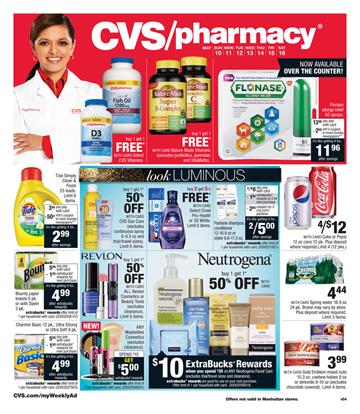 You can visit the latest CVS Ad that was published today. Browse full sale of the CVS on this to catch a real
good deal.
CLICK HERE TO SEE CVS WEEKLY AD 10 MAY 2015
Confectionary, healthy meals, summer food, ice cream variety, beauty and skin care products, and ExtraBucks rewards by CVS are waiting for the customers. You can see all of them with using the preview linked to the image of it. Some of the products from cover page:
Flonase allergy relief $13.96
Charmic basic $5.99
Spring Water $4.44
Coca Cola or Pepsi 4 for $12
CVS Snacks and Chocolates
Chocolates, confectionery and snacks are featured with the best prices. CVS dropped the prices to the very nice values.
Lindt truffles, Ferrero or Ghirardelli 2 for $7
Mars chocolate minis, fun size 2 for $7
M&M's 2 for $6
Gold Emblem bag candy 2 for $5
Hershey's Snacksters 2 for $3
CVS Canned and Packed Foods
This is my favourite in each CVS Weekly Ad. You can browse new healthy and easy food on pg; 3.
Folgers coffee $8.99
Starbucks coffee or K-cups $7.99
Blue Diamond almonds $6.49
Nescafé clasico or Gold Emblem coffee $5.99
Gold Emblem beef jerky $4.99
Kashi cereal or bars 2 for $6
A brief list of the products from three categories can be read on this post but to see whole product range of CVS please take a look at the newest weekly ad.
CVS SUMMER FOOD
CVS ice cream, cool summer food products and brilliant soda varieties. 7up soda, candy offer and many more in May 2015 will be the best price range in all CVS Stores.
Tide Pods or Gain Flings $4.49
Duracell Alkaline AAA $6.99
Hefty CinchSak $7.99