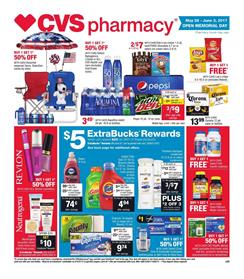 This ad contains a wide range of products consisting of beauty and pharmacy categories. Bogo deals for hair products, general bath supplies, personal care items are available on pg 6. FX hair care, OGX hair care moisturizers, can be purchased with earning extrabucks. Buy 2 Get $4 or Buy 3 Get $8 extrabucks. Aveeno facial or sun care is another deal that is Bogo 50% off ! Spend $30 Get $10 Extrabucks with this item. Another deal is of Coppertone sun care or continous sprays that will give you $3 price drop with extrabucks rewards. Final price for this product is 2/$17 after this earning. Allegra, Xyzal, Flonase allergy relief are available on pg 7. CVS health oral care is Bogo 50% off ! Listerine, Colgate dental care products are on the same page.
First aid kits, vitamins, digestive meds, Advil liqui-gels, supplements and more products are featured on CVS Ad. You should see these Bogo deals as well. CVS Photo deals are available in the final page. CVS first aid products, Band-Aid Brand bandages or Neosporin will give you free first aid kit case if you spend $15.
If you shop for pharmacy needs with CVS products you will earn a lot of extrabucks. These deals will reduce expenses of daily meds or regular health products. Keep following CVS Ads to get more discounts on top quality products.