View the latest products such as snacks, grills, sausage, and their new prices in Dollar General Ad 4th of July Sale.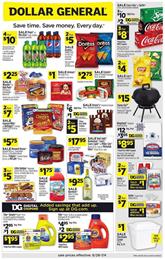 Browse this Dollar General weekly ad for the details of DG digital coupons and general grocery items. With DG Digital coupons, you can save on Tide Oxi and Tide laundry detergent, too. If you are going to use your backyard for some grilling and entertaining the sunset, you need some practical products, cold beverage packs, lots of chips, lots of charcoal, and all these that you need are available at DG stores this week. For the lower costs of them, I think it would be convenient for you to browse the weekly ad sale.
Moreover, this ad can be a good guide for reminding you of what to buy. Save $.50 on Aquafina. And find a wide range of deals on popular beverage products including Monster. Monster energy drink will be on sale. Buy 4 of them for only $7 at this store.
Save with Dollar General Ad 4th of July Sale
You can easily spot good deals one everyone's favorite snacks or beverage products on this ad. Have a look at some of them and see coupons, too:
Snacks and beverage products for 4th of July:
Buy American flags on amazon.com. Subscribe to get more deals like Dollar General Ad 4th of July Sale in 2020.