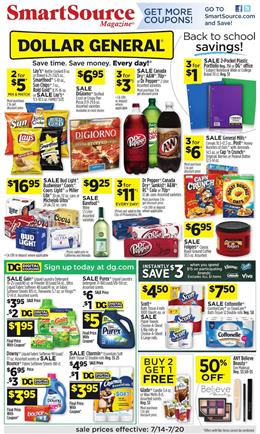 Shop with DG Digital Coupons signing up on dg.com to save additional amounts on household products. Purex, Gain, Downy, and Charmin products are available with the prices after you use DG coupons. See them on the first page. Dollar General Ad Grocery Sale covers a deal on Scott and Cottonelle. Instantly save $3 on these two products. Back to School sale has been very popular sale in recent years. Dollar General Weekly Ad has back to school savings. Buy 2-pocket plastic portfolio or DG 1 subject wide or college rullet 70 ct at 3/$10. Breakfast food is also on sale. Cereals and snacking products are in this category. The cost of General Mills Cereals and more healthy breakfast foods is 3/$6 this week. Discover more deals on DiGiorno, Dr Pepper, Lay's, and more on the first page. Browse Dollar General Ad Grocery Sale Jul 14 – 20 to discover deals like these:
Dollar General Coupons This Week
In-ad coupons of Dollar General are available on pg 2 with an extensive range. Browse products like household cleaning items, laundry detergent, pet supplies, and more on that page. These digital coupons are possible to spot on all pages of the Ad. Check out these coupon savings:
Dollar General Back to School Savings
This Back to School sale is one of the important deals. Many more weekly ads have Back to School products including breakfast and lunch food. Visit pg 8 of this weekly ad to see backpacks, notebooks, and other essentials of daily school life. Buy Crayola colored pencils for $1. You can save $.85 on 3 subject notebook. Also, more DG coupon savings are available on that page.
Check out these grocery products and more from the latest ad:
Get more deals like Dollar General Ad Grocery Sale Jul 14 – 20, 2019 with a free subscription to the newsletter. If you like to shop online grocery, try Amazonfresh for it has a very wide range.