Save with digital coupons this week at Dollar General stores. Multiple-buy prices, back-to-school savings, household supplies, and more products are all featured offers. Buy each item at $1. DG stores are perfect places to find some dollar deals. Cheez-It, Haribo, Starburst, and more products are some of the participating items of the dollar deal. You can shop breakfast cereals, eggo waffles, pancakes, bread, and many more items at lower costs compared to most places you can go to buy them.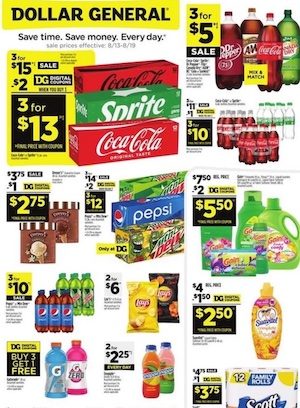 Back-to-school sale is another must-see category in these ads. Filler Paper, 2-Pocket Poly Folder, Sharpie products, and more are featured deals in the back-to-school sale.
Sprite, Coke 3 for $13 – digital coupons
Breakfast Cereals: General Mills products Cheerios, Cinnamon Toast Crunch 2 for $6
BOGO 50% off Tostitos, Ruffles
School sale: Crayola Markers, Notebooks, Marble Composition, Sharpie, BIC Pens, and more
BOGO free deals: Halloween Bags, Hershey's candies from treats sale
Save up to $250 with DG Coupons
Save with coupons on household supplies. Tide, Gain, and more laundry products at cheaper prices.
You can explore the new offers more in the Dollar General Weekly Ad Aug 13 – 19, 2023. There is also a teacher offer if you register. Get involved with these ads more and save more on your favorite items every week. Subscribe to the newsletter of weeklyads2.com and start receiving deals.