Dollar General offers new BOGO deals, digital coupons, Halloween deals, game snacks, Fall specials, costumes, Fall decoration, and many more products. You can shop household items that might turn out expensive at cheaper prices using digital coupons using the Dollar General Weekly Ad. If you visit dollargeneral.com you will be offered $10 coupon on your $40 purchase. You can add that coupon right away. Coupons, deals, weekly ads are all important deals if you are a deal hunter. Don't forget to browse these great products at affordable prices if you are a regular Dollar General store.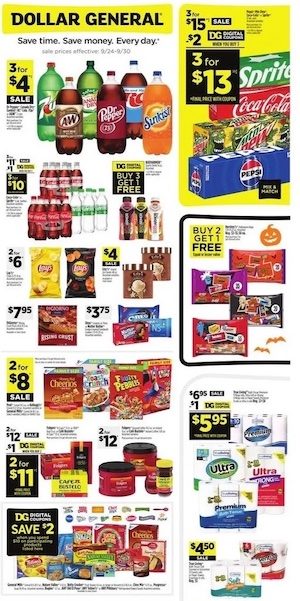 Pepsi®, Mtn Dew®, Coca-Cola® or Sprite 3 for $13
Hershey's® Halloween Bags Buy 2 Get 1 Free
General Mills® | Progresso® | Chex Mix® | Totino's – save $2 wy spend $10 on participating products
Ajax® | Palmolive $3.50 – $4.25 BOGO free digital coupon
Nature Valley® or General Mills® Cereal Bars 5-8 ct 2 for $5
Hostess® Multi-packs 10-20 oz., Mini Muffins 20 ct. or Bouncers TM 5 ct. instantly save $1 wyb 2
Game Day Snacks:
Great American beef burgers $7.50
Cheetos, Doritos, Heinz Tomato Ketchup, Clover Valley, Taco Bell restaurant sauce, and more products
Halloween treats:
MARS WRIGLEY Candy Bags save $2 wy spend $10
Reese's®, Kit Kat® or Hershey's® Jumbo Bags 2 for $10
Halloween costumes and accessories:
Halloween Hanging Decor starting at $1
Halloween Light Up Decor starting at $1
Halloween Partyware starting at $1
Dollar Deals: Creepy Decor, window decor, crafts, light sets, and more
Fall decoration products are looking lovely. Beautiful orange, reddish decoration items are available. There is a BOGO 50% off Perfect Harvest Candles. Find many more deals in this weekly ad.