Spring savings are great offers in the latest Fareway Ad. You can browse an extensive product range of grocery products in the ad. Starting on the first page, you have Doritos, Burger Patties, Pepsi or Mtn Dew, Gold Peak Tea, jumbo bluberries, and many more items on the first page. Fareway coupon on the first page is an offer of Fareway ice cream that will cost only $5.88. The grocery sale of the ad is also interesting with cereals, ground coffee, cappucino, and many more items. The meat sale has some premium quality items.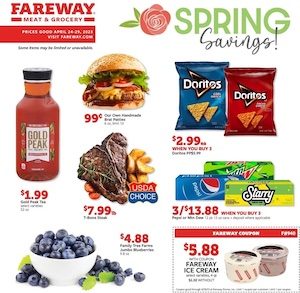 T-Bone Steak $7.99 per lb.
Maxwell House or Yuban Original Ground Coffee $8.99
Boneless Pork Ribeye Chops $.99 for 5 oz.
Meat, seafood, deli: BelGioioso Wedge is free when you buy a shredded cheese of the same brand
Buy 3 Get 1 Free Keebler Cookies
Tribe Hummus is BOGO Free
3-Day sale has Bush's Baked Beans which is BOGO free and more grocery and snack items
Check out Frank's Fareway Favorites, too. You can see broccoli, bacon chips, sour cream, and more products at lower prices.
In the ad, you have all these items at affordable prices. Fareway Weekly Ad Deals Apr 24 – 29, 2023 have many more than these.
You can subscribe to the newsletter of weeklyads2.com to receive deals and ads like this in your email inbox. Don't forget to see other ads that belong to the stores nearby your place.