Food Lion Ad Deals Jun 21 – 27, 2023 show ground beef, raw shrimp, cooked shrimp, meat and seafood, mandarins, and more products with awesome deals on the first page. You can shop hot sale items of seafood and meat products which are favorite ones in Food Lion ads. Doritos Tortilla Chips, Cheez-It Snap'd, Kellogg's Town House Crackers or Crisps, and more are available in the latest ad. Double Money Back Guarantee on summer entertaining products.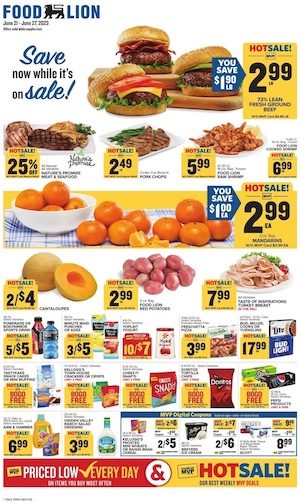 Buy 3, Save $3 mix & match sale is a great deal from this ad. Pizza, ice cream novelties, ice cream, frozen pasta, and more products are featured offers of mix & match sale.
Fresh ground beef $2.99/lb
Tastykake snack cakes or mini muffins, Cheez-It, Doritos Tortilla Chips, Pepsi Products, and more
MVP Digital Coupons: Kellogg's Frosted mini wheats or raisin bran cereal, Breyers Ice Cream, Scott, and more
25% off Boston Butt
Buy 3, Save $3 sale with Oreo Frozen Dessert, Banquet Family Size Meals, Stauffer's Cookies, House Autry Breader Mix, and more
Dairy, frozen, health, beauty, house and more categories. Breakfast sale with Hungry Jack Pancakes, Kellogg's rice kripies cereal, and more
More is in Food Lion Ad Deals Jun 21 – 27, 2023. You will like the dinner ideas and large grocery sale in this ad. Subscribe to the newsletter of weeklyads2.com to start receiving emails about these ads.