Fry's Ad Month-End Savings October 2023 has great deals this week. Fry's always has competitive prices, digital coupons and great deals. By browsing Fry's ads with weekly deals, you'll learn how to save on your purchases.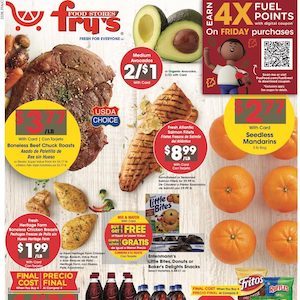 Save More with Competitive Prices
Fry's offers competitive prices every week on thousands of products. You can find fruits, vegetables, meat products, grocery essentials and more at discounted prices in Fry's weekly ad. Follow Fry's ad to get the best deals of the week.
Earn Extra Discounts with Digital Coupons
Fry's offers customers the opportunity for additional discounts through digital coupons. Check your digital coupons with weekly ads. You can save more by using digital coupons on items you add to your cart.
Shopping Enjoyment with Great Deals
Fry's Ad isn't limited to just competitive prices and digital coupons. Every week there are special offers on different products. These deals include BOGO Free deals, discounted cleaning supplies, and more. Check Fry's ads often so you don't miss out on these deals.
Fry's Deals This Week
Boneless Beef Chuck Roasts lb, $3.77
Fresh Atlantic Salmon Fillets lb, $8.99
Fresh Heritage Farm Boneless Chicken Breast lb, $1.99
6-Pack Coca-Cola, Pepsi, Dr Pepper or 7up, 4 for $12
Quilted Northern Bath Tissue each, $5.99
Ore-Ida Frozen Potatoes each, $4.99
Sare Lee Honey Wheat or White Bread each, $3.49
Coffee-Mate Coffee Creamer each, $6.99
Chex Mix, Gardettos or Bugles each, $1.49
Pepperidge Farm Goldfish Crackers each, $1.99
Progresso Soup each, $1.49
Velveeta Shells or Kraft Deluxe Mac & Cheese each, $2.49
Mission Carb Balance Tortillas each, $3.49
Old El Paso Dinner Kit each, $2.99
Hostess Multipack Snacks each, $2.99
Simple Truth Organic Hummus each, $2.99
Lance Sandwich Crackers each, $2.99
Nabisco Honey Maid Graham Crackers each, $3.99
Hormel Black Label or Natural Choice Bacon each, $4.99
Bob Evans Side Dishes each, $3.49
Energizer Max Batteries each, $12.99
Dawn Dishwashing Liquid each, $1.99
Handi-Foil Pans with Lids each, $2.99
Red Baron Pizza, $4.99
Kroger Deluxe Ice Cream, 2 for $5
Maybelline, Covergirl, Kiss or L'Oreal Eye or Lip Care, BOGO Free!
Pillsbury Grands Biscuits, Crescents or Cinnamon Rolls, 2 for $6
Rise-A-Roni or Pasta Roni, 4 for $5
Nabisco Family Size Oreo or Chips Ahoy Cookies, $3.99
Stouffer's or Lean Cuisine Entree, 4 for $10
Nerds, Sweetarts, Trolli or Lally Taffy Mixed Candy, $11.99
Kinder Joy Halloween Egg, $1.89
Hershey's Snack Size Halloween Candy, $6.49
Hugmee Squishmallow with Costume, $20.99
Holiday Home Pose-N-Stay Skeleton, $39.99
Carving Pumpkins, 2 for $12
Enjoy Shopping with Fry's
Fry's helps customers save more and make shopping more enjoyable. With Fry's Ad Month-End Savings October 2023, you can make your shopping cart more economical with competitive prices, digital coupons and great deals.
If you want to save money on your weekly grocery shopping and buy quality products, visit Fry's Market and follow Fry's Ad. Remember that offers are updated weekly, so check Fry's ads regularly for new opportunities each week. Make your shopping more profitable with Fry's and enjoy savings on quality products every week.