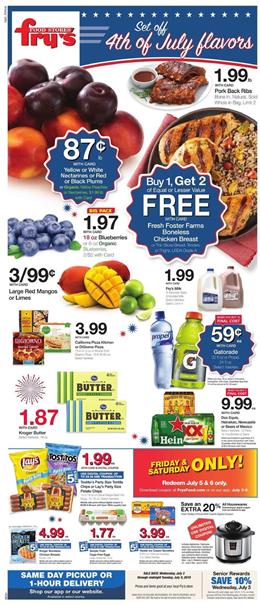 Shop these products on Jul 3 – 9. BOGO deal is available for Fresh Foster Farms boneless chicken breast. Buy 1 Get 2 Free. Fry's Weekly Ad Jul 3 – 9 shows a range of digital coupons on the first page. Buy houseware, chips, drumsticks, eggs, and Kroger boneless chicken breasts for lower prices. You can use the digital coupons up to 5 times. Celebrate 4th of July with popular snacks and your favorite type of grilling meat. If you like to grill chicken, that's alright as well. Fry's has some chicken deals for you. However, if you want to buy beef ribeye steak, I recommend you to buy on Jul 3 – 6 because of the 4-days only sale. That fresh-cut meat will cost $5.97/lb with this discount. Moreover, fresh ground beef is also your choice within the same time. Fresh ground beef will cost $1.97/lb. Save more with digital coupons on weekly shopping items such as barbecue sauce, Bakk Park buns, frozen potatoes, etc. using Fry's Weekly Ad 4th of July discounts.
Fry's 2 extra fuel points products:
You can buy some patio products and garden furniture for the Fry's Ad prices on pg 7. HD Designs orchards, dining chairs, metal serveware, sun tea jar, and many more products are possible to spot in that part.
Natural and organic foods:
Get more deals like Fry's Weekly Ad 4th of July products in your email with a free subscription. All you need to do is to leave your email address. Also, you can follow us on Facebook or Twitter pages.