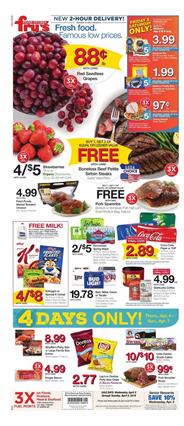 Get free milk for your purchase of 4 participating items including Nature Valley crunchy, Kellogg's frosted flakes, Kellogg's Special K cereal, and Fiber One Bars. Fry's Ad has some profitable discounts and you can lower the cost of your weekly shopping with these savings. Save with the 4 days only discounts. Buy Little Debbie snack cakes 6-12 ct. for 10/$10! 3x fuel points marks are everywhere in this Fry's Weekly Ad sale. Boneless beef petite sirloin steaks will be a Buy 1 Get 2 free. You can use digital coupons up to 5 times. Edwards pie, Nabisco family size cookies, and turkey breast are all coupon deals on the new Fry's Ad Preview.
Buy your game snacks at Fry's who offers great discounts on all of them. Hillshire Farm smoked sausage, shrimp platter, Simple Truth nuts, bone-in or boneless chicken wings might be your choices of snacks. Also, there are many 3x fuel points in the fresh food section of Fry's Ad.
Earn 3x fuel points with these purchases:
Natural & organic choices:
And many more products are available in the Fry's Ad. Browse all the deals on currently available Fry's Weekly Ad sale, subscribe to the Fry's to get emails.