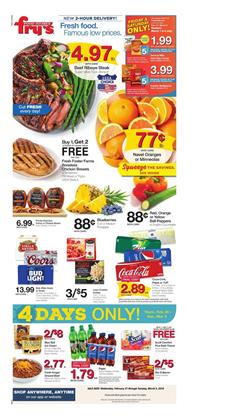 A 4-days-only sale featuring Scott comfort plus bath tissue, Pepsi, Bar-S, Fresh Kroger ground beef, Blue Bell ice cream is available on the first page. Fry's sells beef ribeye steak, navel orange, fresh foster farms boneless chicken breast, bell peppers, and more fresh foods. Fry's Weekly Ad is a weekly deal on most grocery products that are available in Fry's product range. One of the major sales is a mix and match sale (Buy 5, Save $5) featuring favorite brands of cereals, water packs, household items etc. You can save a great amount on these grocery and weekly supplies with the aid of Fry's Ad. Also, shop pantry, snacks, dairy, and packaged foods with multiple-buy deals on pg 4. For example, Lay's party size potato chips will cost $3.99. Kroger cottage cheese, sour cream or dip will cost $5 when you buy 4. Kroger salad dressing is also the same price. Barilla pasta and Chobani Greek yogurt will be 10 for $10!
Have fun with your family and get Jenga, Sorry or Connect Four, Kroger rising crust pizza at lower costs at Fry's stores.
4-days-only sale:
Mix and Match sale:
Spend $30, Save $10 on pet products such as Pet Pride dog food, Nudges dog treats, Beneful prepared meals, Beggin' strips, Blue Buffalo that are available on pg 7. Follow our Facebook page to get these posts on your feed. You also subscribe to Fry's Ad for emails.