Find mix or match sale, 10 for $10 items, fresh produce, grocery, snacks, bogo free deals and many more profitable offers for your weekly shopping and saving.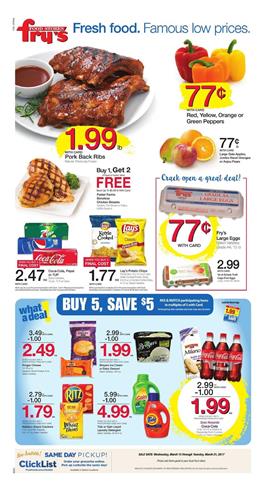 Quit bad habits and start making shopping list and I recommend you to browse these weekly ads before you go to weekend weekly shopping. Stores like Fry's provides a lot of low priced quality food when you are in lack of time. It's always cheaper than local stores and producers. Find a great sale of new Fry's Ad can help you with savings.
Fry's low price strategy goes on this week. Food store offers dairy and meat on pg 2 for much cheaper sale prices. T-bone steak is only $4.77 lb. That's USDA choice. Another great deal of Fry's from this range is Chobani or Fage Greek yogurt priced at $.77 ! Don't miss out Nabisco Oreo or Chips Ahoy cookies priced at $1.77. All these are sale prices.
Find mix or match sale on pg 4-5. That's a huge range of Buy 5 Save $5 participating items. For example Powerade 8 pk is only $3.99 ea this week. With this deal you can get Kellogg's cereal for only $1.88. That's a 12.2-18 oz pack. Fry's also offers deals of basketball snacks and beverage that will be good to have around while watching your favorite sports match. 7UP 2L is only $.88 at Fry's.