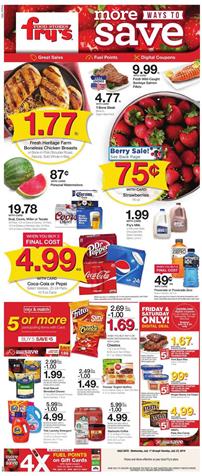 Fresh product sale and multiple-buy offers of Fry's Weekly Ad are on the first page. Some seasonal fresh products are tempting. Strawberries 16 oz.pack is gonna cost $.75 at Fry's stores this week. Find Fry's Ad mix and match sale on the first page. Snacks and packaged foods are popular at these stores and Cheetos is one of the participating items. Thomas' English Muffins, Starbucks Coffee, and more will be $1 cheaper when you buy 5 participating products.
Save with Back to School products including Crayons. Shopping for the essentials of the daily life of school should not be hard with such deals. Buy Ticonderoga #2 pencils for $3.49. Also, more multiple-buy deals on products like packaged meals, Snickers, Oreo cookies, Tostitos are available on pg 3.
Fry's Fresh Food Sale
Berry sale is one of the promotional deals of the fresh product category. You can do a lot of sweets with berries and add them to your desserts as flavors. Buy raspberries, blackberries, bluberries, and strawberries for big pack prices on pg 4. Fresh meat sale is also on the same page. Think of a dinner or lunch meal with premium quality meat products. Buy Fresh ground beef for only $2.77/lb. at Fry's stores. Fry's Weekly Ad Jul 17 – 23 shows the deals on Back to School items on pg 6. Avery durable binder is gonna cost $3.49. Moreover, you can use digital coupons to save on most many products. Buy Pilot G2 pens for $2.99 with digital coupons at Fry's.
Check out these deals from the latest Fry's Ad:
Mix and Match sale wyb 5:
Subscribe to Fry's ads to get more of these deals. Also, check out two important deal events this week; Target Deal Days and Amazon Prime Day deals.