Halloween should be so fun with all the essentials and you have the chance to save on this shopping. Awesome products at lowered prices will make you happier.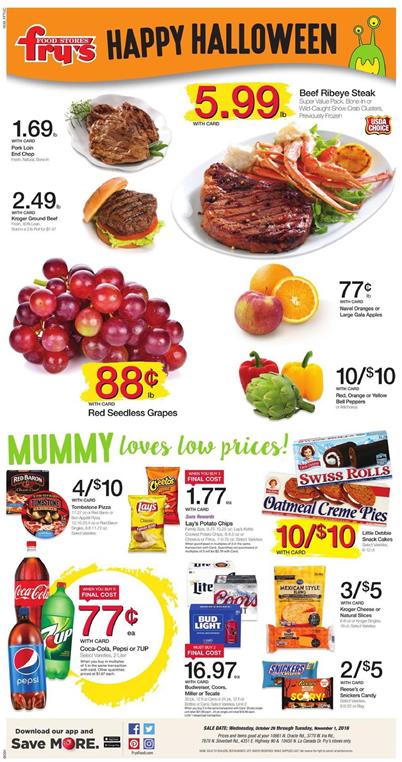 While you shop you have the chance to discover and unlock the awards of your success ! Fry's Weekly Ad Oct 26 – Nov 1 2016 is not just a shopping catalog but it makes a great way to live your daily life better, more joyful. Think about what you can buy with the money you spared from the regular food shopping. Where can it be possible ? Of course in the places like Fry's and similar stores.
Fry's offered a cool price drop one everything you can see on pg 2. There are conserved food in general but Buy 2 Get something free deals are the highlighted deals. Pay attention to those deals to save even more. I think all customers of Fry's Ad are so lucky this week meeting such deals.
The special thing about this week is of course special Hallowen Deals. They are appearing on the pg 3. If you have good look on them I believe you will come across with a lot of new stuff. Discover platters, party food, snacks and similar things in this page and get more savings. Thousands of dollars can be saved from expensive shopping during the whole year.
Totino's party pizza 10/$10
Kroger chicken 29.3 oz. $5.49
Doritos or Tostitos 9 oz. 2/$6
PopChips 3.5 oz. $1.88
Jack O Lantern pumpkins $4.99
Cooked cocktail shrimp $7.99 lb.
Hershey's or Reese's candy $5.49
Costumes, cookware, various candies, the best brands and all the favorites can be found on pg 4.