Browse the new range of Fry's Weekly Ad September 21 – 27 2016 that will open the doors of savings and discovery of new products.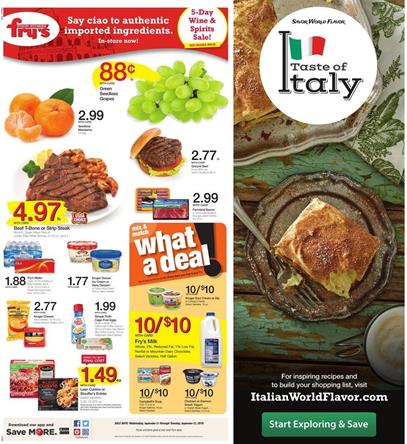 Brilliant looks, practical use and quick browsing can lead you more savings. Deals of the Fry's Ad including fresh local food of Arizona seem like regular sale but it actually contains really good opportunity for all of the customers. When we see this ad first we meet with the new prices of meat :
Seedless mandarins $2.99
Green seedless grapes $0.88 lb.
Ground beef $2.77 lb.
Beef T-bone or strip steak $4.97
Mix or match deals featuring 10/$10 products like Fry's milk, Campbell's soup, Chobani or Dannon Greek yoghurt and more like these. Deli&Bakery, Natural foods, organic choices by USDA organic products are featured deals on pg 2-3.
Fresh baked La Brea Artisan bread $2.99
Mini cinnamon rolls $2.99
Caramel Iced yellow cake $8.99
Kroger potato salad 4/$5
Vitaminwater, Simple Truth organic yoghurt, Fage Greek yogurt, Kettle brand potato chips are natural foods range of Fry's Ad on pg 3. Meat and Fresh produce sales are available on pg 5. Add color to your kitchen with these discount products and reach a huge sale.
Mini seedless watermelons or cantaloupes 2/$5
Red or Green bartlett pears $0.99 lb.
NaturSweet cherub tomatoes $2.99
Dole salad kits 2/$6
Yellow peaches $1.29 lb.
Meat sale on the same page including chicken:
Boneless beef roast sale $3.99 lb.
Boneless beef flat iron steaks $5.99 lb.
Foster Farms drumsticks or thighs $1.29 lb.
Boneless beef cube steaks or stew beef $4.49 lb.
Kroger boneless chicken breasts $6.99
This week Kroger's market chain weekly ads are advertising the Italian food they have for you. Brilliant price range and extra deals on these products are perfect ! They bring the Italian culture in your home ! Don't miss out these products:
Red Potatoes $0.99 lb.
Mini peeled carrots 4/$5
Eggplant $0.99
Colavita Extra virgin olive oil $9.99
Heuck encapsulated stockpot $19.99
Cento San Marzano tomatoes 2/$5
Fresh baked quadrotta olive bread $3.49
BOGO Free deals offer you one product free when you purchase one specified. Jif Peanut butter, Private selection ice cream, quaker cereal are among these deals.