Tips of makeup sets and top brands of the CVS beauty products on sale on the latest CVS ad can be browsed via this page.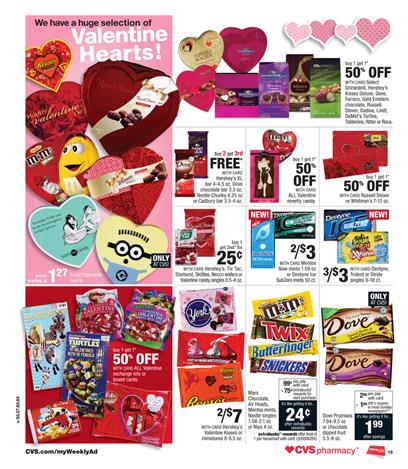 Check out all details about the CVS Ad beauty products and get ready for date. Discounts by 25% off on Nuance cosmetic covers lipstick, mascara, foundation cream, facial care products and creams. You can get a Fructis shampoo for only $4.99 with conditioner. 3 step beauty set of products on pg 3 where shampoo and shower lotion, skin care creams, and makeup products are featured is another advantage on CVS ad.
VALENTINE'S DAY GIFTS
See pg 14-15 for Valentine's Day gifts and candy packs. $2 extrabucks is possible when buy 3 Hallmark Cards ! 25% off discount on plush toys like Mickey Mouse, gifts and novelties. Heart shaped Valentine's Day chocolate boxes are on pg 15. 50% off on Hershey's kisses deluxe, Gold Emblem chocolate, Russell Stover HALF PRICE and more products. See Half price chocolate boxes of TMNT Valentine's Day as well.
Hershey's XL buy 2 get 3rd FREE
Valentine novelty candy 50% off
Mentos Now mints 2 for $3
For Valentine's Day gifts Fry's ad, Kroger Ad, Ralphs ad can offer more products.