Giant National Ice Cream Day deals from Friday to Sunday will awaken you if you are an ice cream fan. You will love the 3-day sale with Häagen-Dazs Ice Cream Pints or Bars, Joy Cones or Hershey's Soup, Reddi Whip, and eastern peaches. Digital coupons are here. Buy your regular grocery needs and save using digital coupons at Giant stores. Also, it is an ad full of BOGO-free deals. Nabisco Family Size Cookies or Crackers, Entenmann's Little Bites, Donuts, Pop'ems are among the BOGO-free items you can see in Giant Weekly Ad Jul 14 – 20, 2023.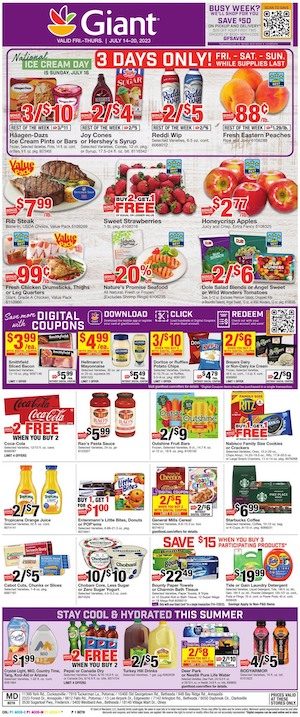 3-day sale: Häagen-Dazs ice cream pints, Joy Cones or Hershey's Syrup, Reddi whip, Fresh Eastern Peaches – Friday to Sunday
Digital Coupons: Smithfield Sliced Bacon, Hellmann's Mayonnaise, Doritos or Ruffles Potato chips, Breyers Dairy or non-dairy ice cream
Save $15 when you buy 3 participating products: Bounty Paper Towels or Charmin Bath Tissue, Tide or Gain laundry detergent
Earn 400 points when you spend $20 on local products
$2 off Sockeye Salmon Fillets or Dungeness Crab Clusters
Digital Coupons on frozen and ice cream products: Blue Bunny soft ice cream, Luigi's Italian ice, DiGiorno Croissant Crust or California Pizza Kitchen Multiserve pizza, and more products
Save $15 when you buy 3 participating products: Cascade Auto Dish detergent, Gain, Tide or Downy Fabric Care, and more products
Subscribe to the newsletter of weeklyads2.com and start receiving deals like Giant Ad Deals Jul 14 – 20, 2023.