3-day sale goes on at Giant stores. You will find great deals on New York Strip Steak, ground beef, and large raw EZ peel shrimp. Johnsonville Fresh dinner sausage is a Buy 2 Get 1 Free deal! Also, you can use digital coupons to save on your favorite items like 8-piece dark meat fried chicken. Those coupons are one of the most important tools of a deal hunter. Giant Weekly Ad Jun 23 – 29 has a lot of them. It is June Dairy month and your lactose resources are on sale. Clip or click some coupons to save on cherries, watermelon, Kraft shredded cheese, Doritos chips, and more are all in the latest ad.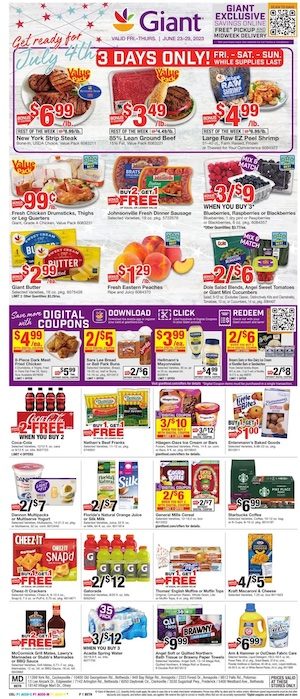 Digital Coupons: Sara Lee Bread or Ball Park Buns, Hellmann's Mayo, Breyers Dairy or non-dairy ice cream and more 
BOGO deals on Coca-Cola, Nathan's Beef Franks, Entenmann's Baked Goods, Thomas' English Muffins, and more 
Clip or Click coupons: Northwestern Cherries, whole seedless watermelon, Kraft Shredded cheese, and more 
Earn 300 Points 4th of July Savings. They have grilling essentials. Ball Park Meat Franks, Giant Side Dishes, Aidells smoked sausage, Butterball Turkey Sausage or Kielbasa, and more 
Save $15 wyb 3 participating products: Tide or Gain laundry detergent, Cascade Auto Dish detergent, Tide pods, and more 
Earn 400 Points wyb 3 participating products: Stock Up Always Pads, Liners, Gillette, Olay Body Wash, and more 
Save $.30 /gal of gas or get 300 points when you spend $15 on participating items like Wonder Bread or English Muffins or Tastykake Donuts
More offers are waiting for customers.
Receive emails about deals like Giant Ad Deals Jun 23 – 29, 2023. There will be more offers and specials from this store.