Prepare for Father's Day with the finest foods from the Hy-Vee stores. Fuel Savers are available in the latest ad. Sandwich, cinnamon rolls, deli ham or salami, beef patties, and more are featured offers. You can shop what you already buy and save on precious fuel. Some products really do a number. 8 piece chicken dinner for 4 will give you $.10 per gallon of fuel. The details on other ads of this store can be also interesting. You have deals on Hy-Vee brands. Buy their own brand products and you will get the better price compared to big brands. Also, BOGO deals are available.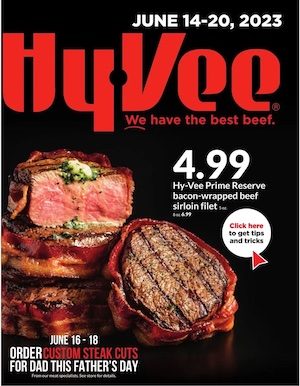 Here are some of those Hy-Vee Brand products:
Hy-Vee fresh whole chicken $1.77/lb.
Hy-Vee prepackaged bulk snacks BOGO 50% off
Fish Market Alaska cod fillets $10.99
Hy-Vee whipped topping 2/$4
Fish Market breaded or battered fish $5.98
They have a special sale for Father's day. You can save on food trays and snacks like potato chips.
Columbus charcuterie tasting board $14.99
Hy-Vee potato chips 2/$4
Hy-Vee Short Cuts 12″ vegetable tray $17.99
Stonewall Kitchen grilling, spice, mix or aioli 15% off
Johnsonville fresh sausage, brats, grillers, links, ropes or breakfast BOGO 20% off
Russell Stover or Whitman's candy box BOGO free
Earn $.20 off per gallon of fuel with Hallmark products. Every $15 purchase of Hallmark products will give you that saving. Subscribe to the newsletter to get deals like Hy-Vee Ad Deals Jun 14 – 20, 2023 in the future.