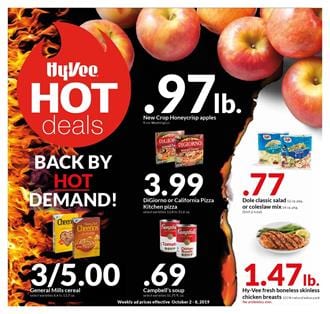 Buy canned goods at fair prices and refill your pantry with the assistance of Hy-Vee Weekly Ads. You can easily reach a good price range for the premium quality fresh produce sale on this ad. Grapes, melon, peppers, raspberries, apple slices, and more are currently priced at the given values on pg 2-3. Buy organic red seedless grapes for $2.99/lb. this week. Hy-Vee weekly ad has alternative and healthy foods to the modern world's calorie bombs. Prefer salads that are low in calories and high in nutritional values. Instead of quickly digested carbs, you can go with some delicious salad. Nothing wrong with just the right amount of olive oil. Watermelon bites, pineapple, Parmesan cauliflower, grill ready veggies mix, Di Lusso salad, and more products are currently available on this ad. Subscribe to get more deals including Hy-Vee Fresh Produce prices.
Hy-Vee is also a great place to shop for some meat. A fine meat selection will be on sale until Oct 8. Ground chuck, chicken breast, beef top round, beef stew meat, whole chicken, Strauss Grass-fed ground beef, and more products are possibly interesting deals for every meat lover. See them on pg 4-5.
Hy-Vee Fresh Produce this week:
And many more in the browsable pages of the Hy-Vee Weekly Ad.