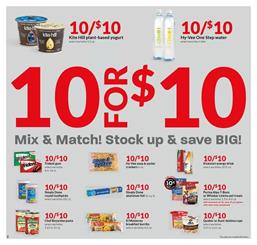 Stock up your favorite stuff while there are few good deals from a supermarket like Hy-Vee. One of the biggest employee-owned stores offers you a new range of hot deals. That also includes new items participating in the 10 for $10 sale. Browse some breakfast food like General mills cereals on the first page. Hyvee Weekly Ad can be a good source whenever you need a discount on cereals. Also, if you are a regular fuel buyer at Hyvee stores, chase the items of fuel savers for maximizing your savings. They have fuel saver items even on the first page. You can get a $.20 discount per gallon with your purchase of Dannon Greek yogurt which costs 10/$9 this week. Today, these should be valid deals. Hyvee Weekly Ad 10 for 10 Sale are just a section of the first part of the entire ad. You can find many more items this week.
Hyvee Weekly Ad 10 for $10 sale is a mix & match sale that is allowing everyone to stock up and save this week. Small items like canned goods for your pantry and pasta variety are possibly interesting items from this part of the Hy-Vee Ad.
Another hot deal of the Hy-Vee Weekly Ad is a low-price lockdown price range which only consists of the low prices that will never change unless they decide to lower it even further. Moreover, the weekly flyer of Mar 4 – 10 has a range of non-food items of simply done which are also fuel savers on pg 3. Cutlery, trash bags, fabric, cleaner, and similar sorts of products will be available there.
Items from Hyvee Weekly Ad 10 for 10 Sale: