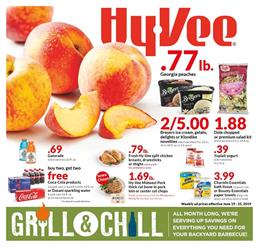 A wide range of fresh food is in this Hy-vee Ad. You have variety of brands of fresh fruits on pg 2-3. Dole, Riper Ready, Driscoll's, Stemitt, FamilyTreeFarms, and more. Buy green seedless grapes for $1.29/lb. USDA Organic food is one of the promotional products in the fresh category of Hyvee Ad. Buy organic vidalla onions, Josie's organics broccoli, red seedless grapes in the organic aisle. Shop meat at Hy-Vee. Browse the weekly ad sale for fresh ground round, ground beef, meat district gourmet beef burgers, true ground beef, boneless beef sirloin steak, beef & vegetable kabobs, and t-bone steak in the meat sale on pg 6. Grilling season is open right now. Customers look for nice grilling meat and burgers. You have a grill & chill section in the Hyvee Weekly Ad Grocery Jun 19 – 25. Buy fresh chicken, drumsticks, thighs, turkey, and more. Tasty packaged meat and cheese, seafood, and more items are also available in the category.
Feed your body with proteins and tasty breakfast foods. Sandwich, feta cheese, English cheddar, cheese cubes, and juice variety are possible to spot in the deli-bakery sale. Renew the stocks of pantry and snacks at Hy-Vee stores.
Hy-Vee Grilling Meat and other related products:
Find Hy-Vee coupons on the final page of this ad. Hy-Vee sugar is only $1.48, That's smart cottage cheese is $1.28, Mars ice cream novelties are $1.99. You can buy Jif peanut butter for only $1.68 in the range of the latest Hy-Vee Weekly Ad.