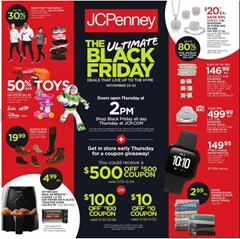 On this article, I will tell about best products and big discounts on JC Penney Black Friday Ad 2018. End of the year is approaching. This means vacation and plenty of discounts! Choosing a gift can be difficult to figure out what to get a friend, family or loved one. I will try to eliminate this problem for you. All pages of this ad were browsed and all products were categorized by myself for you.
Gifts for Him
1-Clothing
The most classic men's clothing; Shirt, Jeans-Fabric-Linen Pants, T-Shirt, and Jacket. If you want to make your choice in the type of clothing, the best choice seems to be men's shirts. So why the shirt? The answer is very simple. Choosing gifts from pants or jackets may be quite a problem. The reason for this is that the body problem (such as waist-length dimensions) in such products is quite common. However, you will not experience this type of problem when buying shirts. Find the most suitable in the S-M-L-X sizes, the chances of catching the body of the man you are gifting are quite high.
Easy to find a pretty good shirt, sweater, pants, jeans and more on this ad. Moreover, you will come across amazing discounts up to 40% when you see this. Also, when you buy a men's ties, bow or pocket squares, you will get one FREE. Some of them have been listed by me. For more detail, see on page 30 to 38.
Shirt;
Pants;
2-Electronics & Hobbies
Working men shave almost every day. Sometimes this turns into torture for most men. For this reason, when men go on holiday, they usually do not shave during the holiday. Therefore, I can suggest you the electronic shaver to be a bit of a solution to this problem of men. This can be a good gift. Razors & groomers are on discount up to 60%. For example; you can buy Remington comfort series foil shaver or power series rotary shaver at $24.99.
Talking with a mobile phone while driving can cause fatal accidents. I also add Tzumi soundmates wireless earbuds, which I think can be useful for men who are always in need of phone calls, into my gift suggestions. This is really handy and price-performance product.
In the information age we live, gift ideas without technology related products will be incomplete and inadequate. We have also listed some quality products for you, considering this fact.
Hobbies are our greatest helpers in choosing gifts. While we have a general knowledge of the interests of our close friends,we can also get help from their social media accounts. So, their interests and hobbies will guide you.
Gifts for Her
Finding and selecting gifts for women is both very easy and very difficult. we can say that men have more options than women in terms of gifts. Even a silver bracelet or a ring may be enough to save the day. Of course, it depends on who you get. I'll start with the jewelry first. If you are looking for a gift for your lover, an elegant jewelry can be a nice gift. Buying a beautiful necklace is both a nice gesture and a romantic way of presenting your love. They offer you amazing discount up to 80%! Moreover, you can also make the installment plan for the products you will buy.
Some good looking products on JC Penney Black Friday Ad 2018 ;