BOGO free sale is one of the major deals from the latest Jewel-Osco Ad. You have digital coupon offers. For U coupons are great deals, too. A lot of snacks and grocery items are participating in it. I think the BOGOs are more important because you can get more stuff for a cheaper price. It is easy to find BOGOs when you have weekly ads like this. Jewel-Osco sells meat, seafood, packaged fresh produce, and many more items in the BOGO free sale.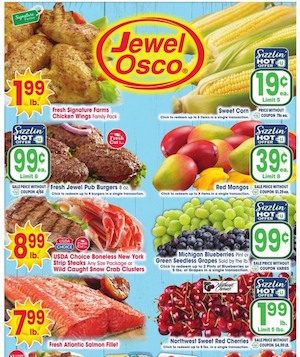 Jewel-Osco BOGO deals Aug 9 – 15:
Fresh Jewel Italian Sausage or Brats 20 oz. or Fresh Bone – In Pork Loin Chops
Signature Farms Zima or Wild Wonders Tomatoes, NatureSweet Glorys or Cherubs 10 oz., Qukes Teeny
Tiny Cucumbers 12 oz. or Signature Farms Campari Tomatoes 1 lb.
Entenmann's Little Bites Cookies Little Bites Muffins 7-13.8 oz., Thomas' Toasting Swirl Bread 16 oz. or English Muffins 12-13 oz.
Impossible Burger 12 oz. or Italian Sausage or Bratwurst 13.5 oz
Mighty Spark Chicken or Turkey Patties 9-16 oz. Select Varieties or Rose Canadian Bacon 6.4 oz.
Oscar Mayer Meat Franks
More deals from Jewel-Osco Weekly Ad:
Galbani String or Snack Stick Cheese
Jay's Potato Chips
Nabisco Snack Crackers 3.5-9 oz., Town House 9.2-13.8 oz. or Cheez-It Snap'd or Puff'd 5.75-7 oz.
Carnation Breakfast Essentials Ready to Drink or Powder Mixes
Pringles Crisps Mega Stack
Outshine Smoothie Pouch
Gia Russa Pasta Sauce
Red Gold Salsa
Mighty Spark All-Natural Patties and Ground Chicken
Dozens of more products are available in the ad. If you subscribe to the newsletter providing your email, you get easily get these deals in your email. Enjoy these Jewel-Osco BOGO Deals Aug 9 – 15, 2023.