Shop fresh products at Jewel-Osco and pay only $.99 for each item. Red Mangos, apples, cucumbers, sweet onions, baked potatoes, and more products are participating in this sale. Explore the deals on grilling shrimp, grapes, cherries, and more on the first page. BOGOs are great deals, too. Check out the meat & deli category where you can buy fish filets, butterfly-breaded shrimp, corn dogs, and many more offers. for U coupons are important deals, too. Use digital coupons to make your savings maxed out on this product range. Buy 5, save $5 sale, back-to-school savings, summer deals on Starbucks products are all available in the new ad.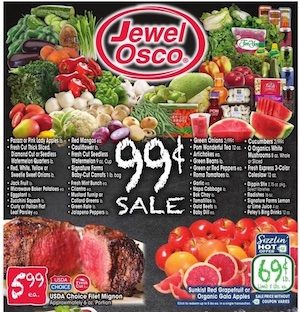 $.99 sale: mangos, apples, cucumbers, mushrooms, gold beets, jalapeno peppers, and more
BOGO free chicken breast, Jennie-O ground turkey, Sabra Hummus, and more
for U coupons on Scott Bath Tissue, Peace Tea, Celsius Sparkling Energy Drink, Gold Peak, and more
Grocery sale: BOGO free Jack Link's Beef Jerky, Pringles Potato Crisps, Matt's Cookies, Pepsi or Mtn Dew
Buy 5, Save $5 mix or match deals: Dove Shampoo, Dove Men + Care, Bar Soap, AXE Shower Gel, TRESemmé Shampoo & Conditioner, AXE or Dove Deodorant
Back-to-school sale: 3M Command Hooks or Post-It Notes, Expo Dry erase markers, Collapsible Laundry Basket, Plastic Hangers, and more
Back-to-school grocery: Old El Paso Refried Beans, GoGurt, Fage Sour Cream, Rosen's Wide Pan or Rye Bread
You will find more among Jewel-Osco Deals Aug 20 – 26, 2023. See the Jewel-Osco weekly ad for more of products from grocery, snack, fresh produce, and others.