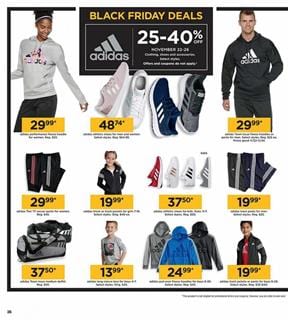 Are you ready to shop on Kohl's Black Friday Ad? Many high-quality, stylish and good looking selections are waiting for you to be discovered on this catalogue. First of all, if you don't have a shopping list , let's make your list and find what you need on this. I've compiled the best deals for you. In this article, you will see which products are on discount and some useful advices. Here you go!
Most people complain about job intensity and lack of time. This is really a big problem. Even if we have limited time, we should know how to spend time for ourselves. Hobby acquisition is one of the most effective ways to solve these problems. Unless you have a hobby, I will offer some alternatives for you. I think, flying a drone can be so much fun. Many models are available in stores right now. If you are interested in taking videos or taking photos, there are also drones with the camera. However, first, you should buy a small drone in the beginning and you have to learn how to use it.
Let's browse on page 34. On this page, you will see DJI Spark mini drone. This is for you ! Moreover, it is on sale. When you buy it, you save $50 ! There's one more thing I should mention in particular on this page. If you have a friend's birthday who likes to take selfie , I recommend you Canon IVY mini photo printer. Print all the pictures your friends took on phone. Give your friend a chance to immortalize all his/her memories! If you buy it , you will save up to $20 ! For more detail , you can check on page 34.
I've listed some of the game deals I've chosen for you;
Kohl's Black Friday Sportswear Deals
Sportswear is not just to wear sweatpants and t-shirts. Sportswear is actually dressing up how you feel comfortable. Comfortable dress usually makes people happy. Things you should be careful is being stylish while feeling comfortable. Lots of stylish combinations that you will be quite stylish is available on this catalogue. High-quality and stylish items of popular brands such as Nike, Under Armour and Adidas are offered for you by Kohl's Black Friday Ad. Hoodie, pants, running shoes, track jackets and many more can be browsable on pages 28 to 30. Moreover, these selections are available for nearly each age group. I have listed my favorite products for you, but don't forget to look at them in detail.
One of the products that will never go out of fashion is jeans and I am sure most people have a few of them in the their closet. This has a simple explanation. This product that you can always wear in your daily life and easy to combine. Now I will tell you about a few great deal related to jeans. One of the first brands to come to mind when called jeans is Levi's. Variety of men and women's Levi's jeans are featured in Kohl's. If you want to see good looking Levi's jeans with amazing discounts up to 40% visit pg 31. In addition, it is possible to come across special discounts up to 50% for girls and boys. Also, you wil get $15 Kohl's cash on every $ 50 you spend. Don't forget !