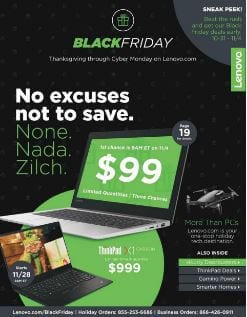 Black Friday Ads are being published one by one. Lenovo and Music and Arts are two of the latest Black Friday ads we can now browse. One of the things that drew my attention was the laptop sale in Lenovo's ad. Because Lenovo ThinkPad will be much cheaper on lenovo.com. Also, see all other early Black Friday deals on Oct 31 – Nov 4. Highlights of this ad:
– $700 off on select gaming PCs or parts
– Office electronics $1000 saving on some products
– Save 45% off workstations
– Up to 78% off ThinkPad
ThinkPad has a $299 starting price on this Lenovo Ad. According to this ad 100 million of Thinkpads have been sold. Most consider ThinkPad as a business laptop and I have seen so many Master students use this laptop but it can do many other tasks, too. Most of them have some nice specs. Many laptop users will envy the design of it. You can also buy parts like docks. Check out these Lenovo ThinkPad prices on Black Friday Ad:
If you care about price/performance rate I would say the best ThinkPad is T470 there. Also, E490 has the lowest price of its on the ad. Also, save really big on these ThinkPads on Lenovo Black Friday Ad:
Go to pg 4 for Lenovo Doorbuster deals. These times are ET. You can find even more deals on more ThinkPads. Also, see Music and Arts BF Ad here.