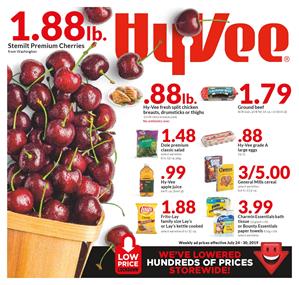 Save on your grocery shopping with the deals from Hy-Vee Weekly Ad Jul 24 – 30 sale. Fresh produce and general grocery items of regular weekly shopping are possible to find in this Hyvee Ad. Low Price lockdown has recently been announced by the retailer and weekly ads are practical sources to observe these lockdown prices. On a weekly basis, try to check out these ads so that you can see the prices of products such as canned goods, breakfast cereals, milk, etc. For example, you can buy Tide pods for $5.99 and that price is locked and it will only change when a discount is available. We can say that shopping these items with Hyvee lockdown prices is very safe.
Check out some of Low Price Lockdown products of Hy-Vee Weekly Ad Jul 24:
Earn Free Gas – Hy-Vee Ad Jul 24 – 30 Deals
Earn free gas and shop participating Hy-Vee Fuel Saver products for lower prices on pg 4. This weekly ad is useful in many ways. Customers can see the fuel saver deals on this category. Besides, your essential products including Hy-Vee original brand products are available in this range. A good example of this category is Hy-Vee pasta that will cost 10/$10. Moreover, you will earn $.10 per gallon for purchasing that product.
See these fuel saver deals:
Buy 10 Kraft Products Save $10 Instantly
Go to pg 5 of this Hy-Vee Ad for a variety of Kraft products. If you buy 10 participating items which are viewable on pg 5, that will be a $10 saving. Among the items, you can see Kraft ketchup, Classico pasta sauce, Miracle Whip, Ore-Ida potatoes, Kraft Easy Mac, and more items.
And even more items are available in it. Browse Hy-vee Weekly Ad Jul 24 – 30 for fresh products, as well. It's very much possible to find healthy and organic fresh products and fruits on pg 6. One of the deals there is Organic Driscoll's blueberries. Organic products are USDA organic-certified items. Stores like Hy-Vee offers great salads. People like Publix subs and salads. Big stores like Kroger, Albertsons and their deli offer some nice salad variety. They are healthy lunch ideas. In this weekly ad, you can also see fuel saver salad deals. Di Lusso salad is one of them and its price is $4.99. You will get a $.3 per gallon when you buy that.
Hy-Vee Meat Sale Fuel Savers
Considering we already buy these products for the weeklong needs, fuel savers are not a bad idea. You can also observe that some items of the fresh meat category of this Hyvee Ad are fuel savers. While you shop for your grilling meat, save per gallon of fuel, too. 5 items are $10 at Hy-Vee this week. The fuel savers in this part are huge. With Mega Meat Mondays, you will be able to save $.15 per gallon spending $25 on select meat, seafood, and deli items.
Browse meat, deli, cheese, seafood, dairy, pantry, frozen food, snacks, and non-food categories of the latest weekly ad. More fuel savers for your $20 purchase of Simply Done products. Visit pg 19 to see that deal.