Meat, deli, seafood and more products of Albertsons Ad Feb 15 – 21 2017 could be a good chance for you to save on fresh products.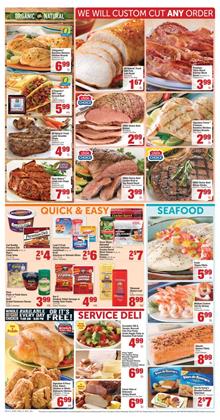 Seafood is also available on the Albertsons Ad. USDA choice products were placed on the same page. Delicious products, effective price range and impaccable deals will be your favorite things about this week. If you want to shop for the regular needs in this weekend check out Albertsons meat and deli range on pg 2.
USDA Choice Beef Brisket $2.99 lb.
Signature Farms Premium Boneless Skinless Chicken Breasts $2.99 lb.
USDA Choice Beef London Broil or Top Round Roast or Family Pack Steaks $3.99 lb.
USDA Choice Beef Ribeye Steaks $7.99 lb.
Deli, seafood deals consisting of the top products from American farms. All the beauties will be ready in-store. Check out shrimp, salmon fillets, and more products from Albertsons online. Also convenient food like lunchmeat, lunchable food and more are featured on pg 2.
You can find Albertsons Deli's cheese variety on sale. Also whole rotisserie chicken that is available everyday. $6.99 is the price you have to pay to get that chicken. Don't forget to see this range of products from Albertsons weekly ad preview.