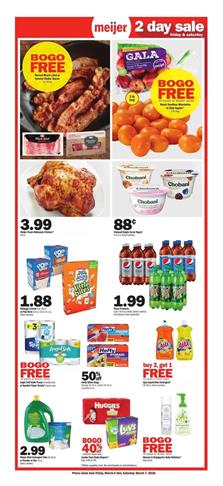 Shop these deals tomorrow at Meijer stores. The latest Meijer 2-Day Sale weekly ad covers sports shoes, BOGO free deals, some grocery products, beverage, and more items. Meijer is a good place to save with the short-term deals because they publish this 2-day sale Meijer ads almost every week. With this deal, you can buy apples and mandarins BOGO Free. Another BOGO Free deal is Angel Soft tissue or Sparkle paper towels which appear on the first page.
Buy your favorite comfortable sports shoes at Meijer 40% off this week. Buying shoes at Meijer and like-class places is really profitable. Athletic shoes from brands like Adidas, Fila, and others are available on pg 2. You can find home products and electronics on the Meijer weekly ad, too. Buy Vizio 50″ Smart TV for $289.99. Items from Meijer Ad 2-Day sale:
Subscribe to Meijer Weekly Ad or other ads to get similar deals in your inbox. You can leave your email and we'll send you the notifications about new deals in the future. There are nice deals coming in Spring and Summer.