Meijer Ad Memorial Day 2023 sale is a special offer for your grilling party. Gather with friends in your backyard, open a cold one and start making the best burgers in the world. Use Meijer 80% lean ground beef for your burgers and pay only $1.99 per lb. It is fresh and never frozen. The deals are swarming the ads this week and Meijer's ad is no exception. They have a buy 5 save 5 mix & match deal in which you can find Eckrich Sausage Rope, Taylor Farms Salad Chopped Kits, Simply Drinks, Aunt Millie's Stadium Buns, and more products that can be purchased at lower prices.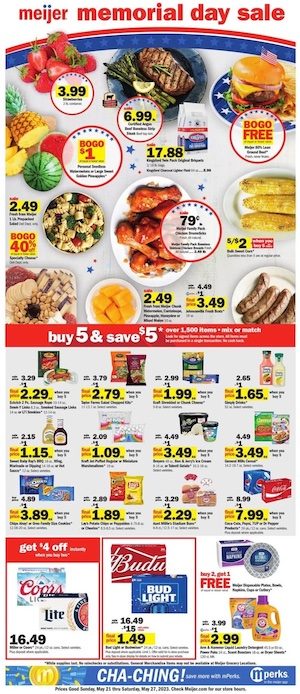 Special Offers on the First Page – Meijer Ad Memorial Day 2023
Certified Angus Beef Boneless Strip Steak $6.99 per lb.
Meijer 80% Lean Ground Beef $1.99 per lb.
Meijer Family Pack Chicken Drumsticks $.79 per lb.
Fresh from Meijer 1 Lb. Prepacked Salad $2.49
Personal Seedless Watermelons or Large Sweet Golden Pineapples BOGO 1 of equal or lesser value
Kingsford Twin Pack Original Briquets $17.88
Johnsonville Fresh Brats $4.49
Also, check out these Memorial Day summer offers in Meijer Ad Memorial Day 2023:
Entire Stock of Swimwear for the Family $7.20 – 40% off
Bubbles, Bunch O Balloons and Chalk now $.74 – $19.49 – 25% off
Sun Care Products BOGO 50% off
Camp Cooking Accessories BOGO 40% off
OFF! Personal or Area Repellent BOGO 50% off
Intex Pools $8.99 – $599.99 – 25% off
Summer Dinnerware, Serveware, Drinkware and Food Storage Products $1.59 – $31.99 – 20% off
Tide, Downy, Bounce or Dreft Product save $5
Mix & Match Deal – Meijer Ad Memorial Day 2023
This week, you get to see a lot of nice deals on grocery items and breakfast food and they are a part of the mix & match sale. Meijer weekly ad May 21 – 27 has these in the mix & match and more:
Kellogg's Cereal $3.99
Post Cereal 18-19.5 oz. or Special K Cereal* 9.6-13.5 oz. $3.49
Kind Bars $6.99
Dannon Light & Fit or Oikos Greek Yogurt $3.99
Kraft Deluxe Macaroni & Cheese or Velveeta Shells & Cheese $7.49
Totino's Frozen Pizza Rools $4.99
Herdez Salsa $2.69
Snyder's Pieces or Pounders Pretzels $3.69
Many more products are highlighted as offers of the week in the ad. Subscribe to the newsletter of weeklyads2.com to receive ads and deals like this one. See more details on Meijer's site.