You can see some stock up deals among the supermarkets like Meijer.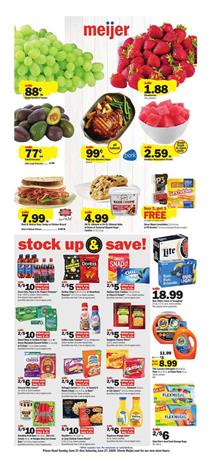 This might be caused by the intention to consume their stocks because I think most stores bought more than what they would due to the unpredicted demand during the first months of the pandemic. People were very eager to buy extra stuff not to visit supermarkets frequently. Today, you can browse Meijer Ad stock up sale Jun 21 – 27. Most of them are multiple-buy savings. Snacks and beverages are available on the first page. Browse Meijer weekly ad for this deal, deli, fresh products, organic food, BOGO free deals, and non-food products. Last of Us II is available now at Meijer. The game has been released today. Pay only $59.99 to buy the game.
Meijer Fresh Produce and Grocery Stock-Up Sale
Browse the part where you can find quick salad kits and classic fresh fruits of the summer. Melon is available at Meijer. It should be the time when melon is at its best form right now. Pay only $2.99 for the sugar kiss melon on pg 2. Lots of BOGOs and stock up sale items are also available in the grocery-fresh food part of the Meijer weekly ad.
Stock Up Sale: